Navigation Systems Put to the Test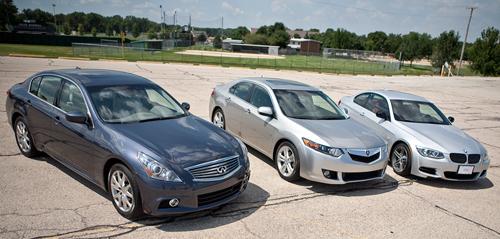 One of the most popular options available for new cars is a navigation system. Often these add $1,000 to $3,000 to the sticker price and can even be wrapped into more expensive packages.
It's certainly easier to swallow that slightly higher monthly payment if the navigation system you just paid for works the way you think it should. But after testing hundreds of cars over the years, we know they don't all deliver. So we took three luxury cars with the expensive add-ons and a simple $180 Garmin aftermarket unit — the kind you stick to your windshield — to the test around the bustling Chicago metro area.
With three navigation-equipped cars on hand — a 2010 Acura TSX, a 2011 BMW 3 Series and a 2010 Infiniti G37 — we put their routing to the test. All three cars use different navigation suppliers, and all three systems vary in price and features.
The G37's $1,850 navigation system requires upgrading, at minimum, to the G37 Journey — one rung up from the base model. It includes Zagat restaurant ratings, traffic and weather, Bluetooth streaming audio a larger hard drive for storing music, DVD capability and voice recognition. With upgraded graphics and technology for 2010, this system represents that latest and greatest Infiniti has to offer, spokesman Ray Daniels told us.
BMW's $2,100 navigation system is available on any 3 Series. Besides a traffic display, it also adds the automaker's iDrive system, now in its latest generation, with improved graphics, a host of shortcut buttons and the requisite additional configuration menus.
The TSX's navigation system is part of a hefty $3,100 Technology Package that includes upgraded ELS audio, a six-CD changer, traffic and weather, a backup camera and nominal enhancements to the Bluetooth and climate control systems. Its grainy graphics reveal its age: The only DVD-based system in the test, the TSX's navigation will be replaced by a faster hard-drive unit for 2011, spokesman Gary Robinson said.
To establish a baseline, we brought along a Garmin Nuvi 255W. Purchased last April,
it retails today for $180
. We configured all systems, including the Garmin, to eliminate any routing preferences, meaning highways and toll roads were fair game.
Most systems allow for route choices — a quick route or a short route, for example. We always selected the quick route. More importantly, we also eliminated traffic-based routing. Traffic conditions, reported to each car through a streaming data feed, can change by the minute. A slight variance in traffic could result in a navigation system directing a car another way, skewing the results simply because it was last in the convoy.
The routing is what counts. With three teams of drivers, we set out to see how the systems handle a series of progressive route complications. After all, seldom does a road trip go without a missed turn or a bathroom detour.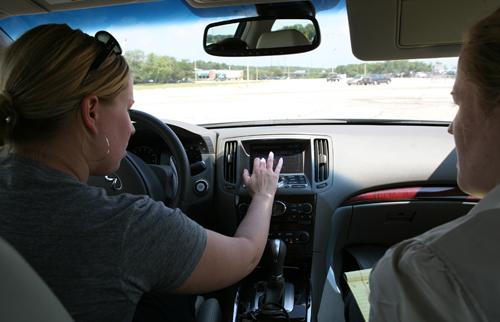 Whether a system costs $200 or $2,000, wonky logic can still send you blocks — or miles — out of the way to get back on track after a detour. Old map databases can direct you the wrong way down a one-way street, or refuse to shortcut you down roads built a year or two ago. We've experienced both.
"You have maps that, even though they are coming from different companies, are being integrated and aggregated," said Mark Boyadjis, an analyst who is on the automotive team at iSuppli, a California-based electronics consultancy. "All navigation systems have a proprietary routing system, or routing engine. ... It's that sort of software that determines how a car gets from point A to point B. So there might be variations."
Our evaluations took us from our downtown Chicago offices along the following routes:
A five-mile simple urban route from downtown to U.S. Cellular Field, home of the Chicago White Sox.
A 20-mile suburban route from U.S. Cellular Field to Elmhurst, Ill., including a simulated missed exit off Chicagoland's I-294 toll way.
A 34-mile exurban route from Elmhurst to New Lenox, Ill., including a simulated bathroom break off I-294 with no clear entrance back to the highway and traveling along sections of I-355 that were completed at the end of 2007.
Finally, to see the currency of each system's map display, we checked out one of the numerous new subdivisions in Plainfield, Ill.
By day's end, each team had detailed impressions — on routing, address entry and more. A fair fight? Weigh in with any thoughts below, and stay tuned for tomorrow's results.