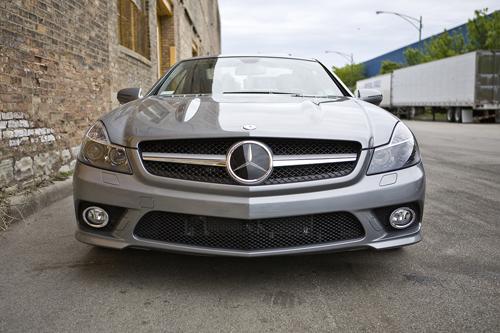 When you think of the people who speed, turn without signaling, roll through stops or weave through traffic, what are they typically driving? If a Mercedes, Pontiac or Scion popped into your thought bubble, you now have data to back up your prejudice.
Quality Planning, a consultancy firm that validates automotive policyholder information for auto insurers, has just published a report that explores the relationship between the cars people buy and their driving habits.
The study uses a year's worth of traffic code violations (from February 2009 to February 2010) for each make/model on U.S. roads and then standardizes the data per 100,000 miles driven.
The study shows that Mercedes-Benz SL-Class roadster owners are the worst offenders, getting four times as many moving violations compared to the norm. That doesn't sound surprising in the least considering the SL is a sleek, sporty two-door. However, there are three cars made by Toyota – Camry Solara, Scion TC and Scion xB – on the top 10 list of worst offenders, which is interesting since Toyota Motors isn't thought of as an "ultimate-driving-machine" carmaker. Surprisingly, there isn't a BMW among the top 10 offenders.
Why are these vehicles involved in more violations than others? It's possible that law enforcement has a bias toward people who drive these cars, or, most likely, there is a correlation between the personality of someone who buys a Scion tC or Acura Integra, for example, and playing fast and loose with the law. Don't blame males or youth, either. The average driver's age of the offending vehicles range from 30 to 50 years old, and most of the top offending make/models were predominantly owned by women, not men.
As for the drivers who exhibit cautious driving characteristics, including getting fewer traffic tickets than the norm, they drive cars like the Oldsmobile Silhouette and Kia Spectra. Overall, we see more family haulers on the slow-, I mean, safe-driver list and an older average age.
Check out the full chart below and tell us which car is a typical offender in your neck of the woods?
Table 1: "Spirited Vehicles" (vehicles with highest percentage of violations)
| | | | | | |
| --- | --- | --- | --- | --- | --- |
| Make | Model | Body Style | Violations | Average Age | % Male |
| Mercedes-Benz | SL-Class | Convertible | 404% | 53 | 41% |
| Toyota | Camry-Solara | Coupe | 349% | 50 | 39% |
| Scion | TC | Coupe | 343% | 30 | 39% |
| Hummer | H2/H3 | SUV | 292% | 46 | 73% |
| Scion | XB | Hatchback | 270% | 37 | 40% |
| Mercedes-Benz | CLS-63 AMG | Sedan | 264% | 46 | 58% |
| Acura | Integra | Coupe | 185% | 33 | 60% |
| Pontiac | Grand Prix | Sedan | 182% | 40 | 41% |
| Mercedes-Benz | CLK 63 AMG | Sedan | 179% | 47 | 44% |
| Volkswagen | GTI | Hatchback | 178% | 40 | 44% |
Table 2: "Cautious Vehicles" (vehicles with lowest percentage of violations)
| | | | | | |
| --- | --- | --- | --- | --- | --- |
| Make | Model | Body Style | Violations | Average Age | % Male |
| Buick | Rainier | SUV | 23% | 61 | 71% |
| Mazda | Tribute | SUV | 26% | 36 | 29% |
| Chevrolet | C/K- 3500/2500 | Pickup | 26% | 40 | 86% |
| Kia | Spectra | Sedan | 27% | 40 | 44% |
| Buick | Lacrosse | Sedan | 32% | 65 | 50% |
| Saturn | Aura Hybrid | Sedan | 37% | 59 | 14% |
| Oldsmobile | Silhouette | Minivan | 37% | 41 | 50% |
| Chevrolet | Uplander | Minivan | 38% | 40 | 54% |
| Hyundai | Tucson | SUV | 38% | 47 | 40% |
| Pontiac | Vibe | SUV | 39% | 41 | 32% |
Information provided by Quality Planning