Don't Count Out the 2010 Toyota Highlander Yet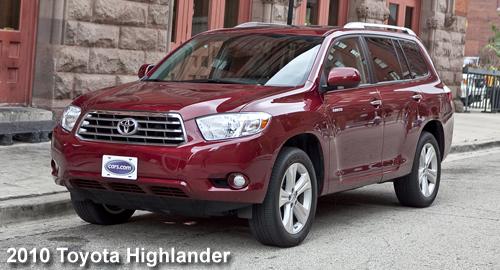 The revamped 2011 Toyota Highlander has just arrived at dealerships. We're currently showing 1,930 examples in Cars.com's national inventory and that number is growing daily. The 2010 model has a staggering 9,100 units in our inventory. By all practical means, the 2011 isn't significantly different than the 2010 outside of the cosmetic changes and content updates we detail here. So, for those looking at the Highlander for its utility and practicality, the 2010 is worth a close look, especially with the deals to be had.
Toyota bumped up the 2011 Highlander's price by about $1,500 — $25,885 compared to $27,390 — and included a third row and rear climate control standard.
For those in need of a five-seat crossover with a lot of space, the bargain-basement-priced base 2010 Highlander is a compelling option. Its cargo area is massive for the price, and it's an excellent no-frills hauler for a small family. That configuration and low price goes away for 2011, so this is the last chance to pick up a new 2010 on the cheap.
Official incentives for the 2010 Highlander are lackluster at the moment, but they expire on Monday. A $750 cash-back offer is currently on the table in most areas as is financing as low as 2.9 percent for up to 60 months. Keep an eye out after the weekend for the next round of incentives, which we'll update here on KickingTires.
Beyond the advertised current incentives, there may be some wiggle room on 2010s as dealers have to make room for the new 2011 Highlander on lots. Cars.com's Smart Target Price suggests the negotiating starting price for a base 2010 Highlander at $24,338.