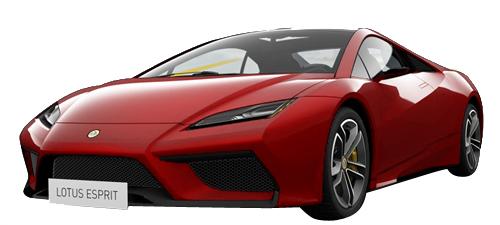 Looks like: A bigger Lotus Elite
Defining characteristics: The name
Ridiculous features: Unsure how the hybrid option will feel on a supercar
Chance of being mass-produced: Estimated release in spring 2013
Lotus has been bulking up its lineup over the past couple of years with the introduction of the Lotus Evora and the new Lotus Elite for 2014. We thought that would be enough on the tiny automaker's plate, but the company has decided it can take on more and unveiled four other concepts at the Paris Motor Show.
Arguably the most important to diehard Lotus enthusiasts and us is the Lotus Esprit, which grounds the British carmaker back to its roots of making uncompromising lightweight, high-handling sport cars.
The Esprit has been off the market for nearly half a decade now. When it comes back in spring 2013 it will be rear-wheel drive with a mid-engine V-8 powertrain like the original Esprit.
Lotus isn't robbing Ferrari designers this time for its looks. It's got a little Lamborghini going on, but with a full slate of cohesive Lotus designs. It's safe to say that this car just looks like a Lotus, plain and simple. The interior appears nearly production ready and reminds us of an Audi R8.
The model sports a 611-horsepower, 5.0-liter V-8, which sounds a lot like (and probably is) the same Toyota-sourced powertrain that's going in the Lotus Elite. A hybrid powertrain will be optional, according to the automaker.
The Lotus Esprit is a supercar and will have a supercar price of $140,000 to $165,000. It's part of an interesting trend we're seeing from Lotus – first with the Evora and then the Elite – which is a decrease in affordability and attainability in the brand's offerings to the everyday person. The auto company seems to be positioning itself as England's answer to Porsche. Of course, the 2004 Lotus Esprit wasn't cheap either, but you get the point.
For detailed specs continue reading below.
Esprit Specifications
Layout: two seat, mid-engine, rear-wheel drive
Engine: Gasoline; hybrid powertrain optional
Capacity: 5.0-liter V-8
Power/Torque: Estimated 611 horsepower; estimated 531 pounds-feet of torque
Rev limit: 8,500 rpm
Zero to 62 mph: 3.4 seconds
Top speed: 205 mph
Weight: Estimated 3,190 pounds
Start of production: End of 2012
Enters the market: Spring 2013
Price indication: Estimated $140,000-$165,000