2011 Chevy Cruze Eco to Get 42 mpg Highway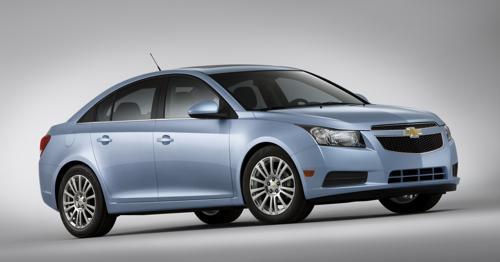 General Motors announced today that the upcoming Eco trim level of the Chevy Cruze compact sedan will get an EPA-estimated 42 mpg highway. That would make it the most fuel efficient non-hybrid on the market.

There is a caveat, though. The Cruze can achieve that mileage only with a manual transmission. City mileage is EPA-estimated at 28 mpg.

We tested a pre-production version of the Cruze Eco that you can read about here. The 42 mpg figure is a huge surprise, as early estimates were at 40 mpg, right where the most efficient version of the Ford Fiesta subcompact manages. To get 2 more mpg than the Fiesta in a larger vehicle is an accomplishment. You can read about some of the aerodynamic differences of the Eco model here.

Chevy says the Eco will arrive at dealers in January, and the starting price with the manual transmission is $18,175 not including a $720 destination charge. A six-speed automatic transmission is an extra $925 and lowers the mileage to 26/37 mpg, which still tops the cars in the segment, including the Honda Civic and Toyota Corolla.