2011 Dodge Challenger SRT8 392: First Drive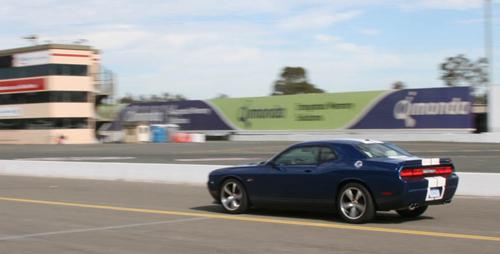 Guiding a Dodge Challenger around a racing circuit might seem like the ultimate automotive fish-out-of-water experience, but that was the setting for a recent drive of the new Challenger SRT8 392 when Dodge hosted journalists at Infineon Raceway in Sonoma, Calif. While the big coupe's poise on the racetrack is one of the more surprising qualities, the new V-8 under the hood is the big news for the Challenger SRT8.
Dodge is building 1,492 Challenger SRT8 392 Inaugural Editions featuring special exterior and interior styling cues, such as "392" badges, quad exhaust tips, 20-inch wheels and white-and-blue leather upholstery.
Like the Inaugural Edition I drove, subsequent Challenger SRT8s will get the new 6.4-liter (392 cubic inches) Hemi V-8 rated at an estimated 470 horsepower at 6,000 rpm and 470 pounds-feet of torque at 4,200 rpm. Dodge says the car can go from zero to 60 mph in just under 5 seconds on its way to a top speed of more than 180 mph.

While I didn't get close to the car's top speed, the new V-8, when teamed with the optional six-speed manual transmission, felt strong, with enough power to let you rotate the car around a corner some by pressing the accelerator. The engine also sounds burly, with a sharp bark emanating from the tailpipes.
The six-speed manual's throws are very short, and each gear engages with mechanical precision. The clutch pedal is very light for a high-performance car, so don't worry about it tiring your left leg.

If you're looking for a muscle car in the classic sense of the word, the Challenger has been — and remains — a good choice. While it will take a few laps at the track in stride, it still feels like the big car that it is. It's better-suited for boulevard cruising, and with the new V-8, I bet it'll be some trip.