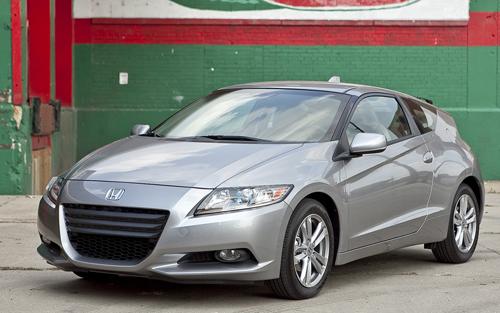 Every year, the Environmental Protection Agency complies a list of the top 10 overall most fuel-efficient cars in the country. For 2011, the Toyota Prius remains on top, but the new 2011 Honda CR-Z enters the fray, displacing the popular 2011 Toyota Camry Hybrid.
The CR-Z comes in at No. 4 with the automatic transmission, No. 10 with the manual. The 2011 Honda Civic Hybrid and Honda Insight are now tied for third place because the Civic Hybrid lost 2 mpg in highway mileage in this year's EPA rating (40/43 mpg city/highway). The Nissan Altima Hybrid fell from sixth to eighth place as it also lost 2 mpg, on its city mileage rating (33/33 mpg).
The CR-Z booted the Camry Hybrid off the list. The 2011 Camry Hybrid gets 31/35 mpg, compared with 33/34 mpg in the 2010 model.
While the Chevrolet Volt and Nissan Leaf are 2011 model year vehicles, the EPA is still working on testing criteria for electric vehicles and plug-in hybrids. Once it figures that out, expect the Leaf — and possibly the Volt, depending on methodology — to skyrocket to the top.
The deviations in the ratings year-over-year come from how the EPA collects its fuel economy results. Typically, the agency allows each automaker to conduct its own fuel economy testing and then sometimes verifies the results. The EPA still conducts its own testing on about 10% to 15% of the vehicle fleet each year, and the models with different ratings were probably just evaluated by the agency.
The 2000 Honda Insight, at 53 mpg on the combined cycle, remains the most fuel-efficient vehicle ever rated by the EPA. Continue reading below for the detailed top 10 list.
1. 2011 Toyota Prius: 51/48 MPG City/Highway
2. 2011 Ford Fusion Hybrid, Milan Hybrid, Lincoln MKZ Hybrid: 41/36 MPG City/Highway
3. 2011 Honda Civic Hybrid: 40/43 MPG City/Highway
3. 2011 Honda Insight Hybrid: 40/43 MPG City/Highway
4. 2011 Honda CR-Z (auto): 35/39 MPG City/Highway
5. 2011 Lexus HS 250h: 35/34 MPG City/Highway
6. 2011 Ford Escape Hybrid, Mazda Tribute Hybrid, Mercury Mariner Hybrid: 34/31 MPG City/Highway
7. 2011 Smart Fortwo: 33/41 MPG City/Highway
8. 2011 Nissan Altima Hybrid: 33/33 MPG City/Highway
9. 2011 Lexus RX 450h: 32/28 MPG City/Highway
10. 2011 Honda CR-Z (manual): 31/37 MPG City/Highway