Incentives on Defunct Mercury Brand Tick Upward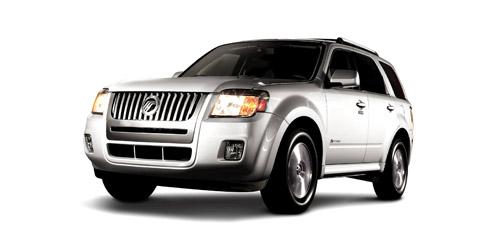 Retail production of Mercury vehicles ceased nearly a month ago, and now Ford is getting down to the business of ridding itself of any leftover inventory for the defunct brand. The remaining Mercury dealerships are on a deadline to move the metal before the end of 2010 when their Mercury franchise agreements will be terminated.
To flush out the remaining inventory, Ford has increased retail incentives for the Mercury brand drastically for November. Until this month, the 2010 and 2011 Milan, Milan Hybrid and Mariner all offered $2,000 cash on the hood, which was the same as its Ford counterparts. Now all three have up to $3,500 on the hood, nearly 60% more money back than what's offered on the identical Ford Fusion and Escape. The 2010 and 2011 Grand Marquis now get upward of $5,500 cash back.
The aggressive incentives are supposed to help Ford expedite the shutdown of Mercury by the Dec. 31 deadline, according to Automotive News. Ford spokesman George Pipas told Automotive News that there are fewer than 10,000 Mercurys left in the inventory, which amounts to a 35-day supply. Currently there are nearly 4,000 Mercurys on sale on Cars.com. Below you'll find the remaining deals on all Mercury and Lincoln inventory. Most of these incentives are good until Dec. 31.
Mercury
2010/2011 Milan: $3,500 cash back; $1,000 cash back and 1.9% financing for 60 months; or 0% financing for 60 months
2010 Milan Hybrid: $3,500 cash back; $1,000 cash back and 1.9% financing for 60 months; or 0% financing for 60 months
2011 Milan Hybrid: $1,500 cash back
2010/2011 Grand Marquis: $5,500 cash back; $1,000 cash back and 1.9% financing for 60 months; or 0% financing for 60 months (2011 only)
2010/2011 Mariner: $3,500 cash back; $1,000 cash back and 1.9% financing for 60 months; or 0% financing for 60 months (2011 only)
2010/2011 Mariner Hybrid: $1,500 cash back
2010 Mountaineer: $4,500 cash back; $1,000 cash back and 1.9% financing for 60 months; or 0% financing for 60 months
Lincoln
2010 MKZ: $4,000 cash back; $1,000 cash back and 1.9% financing for 60 months; or 0% financing for 60 months
2011 MKZ: $3,000 cash back or 3.9% financing for 60 months
2010 MKS: $3,000 cash back; $2,000 cash back and 1.9% financing; or 0% financing for 60 months
2011 MKS: $2,000 cash back or 2.9% financing for 60 months
2011 Town Car: $4,000 cash back or 2.9% financing for 60 months
2011 MKX: $2,000 cash back or 3.9% financing for 60 months
2010 Navigator: $4,000 cash back; $1,000 cash back and 1.9% financing for 60 months; or 0% financing for 60 months
2011 Navigator: $3,000 cash back or 1.9% financing for 60 months