2012 Mitsubishi i-MiEV: Up Close
A few months ago we evaluated a Japanese-spec version of the Mitsubishi i-MiEV, and now Mitsubishi has introduced a version modified for the U.S. market. How different are they?
On the inside, they look the same. The materials are of decent quality but won't win any awards. The dimensions are mostly the same, too, with the same seat track and snug but usable dimensions. The main difference is a width increase of about 4.3 inches, both to the track – the distance between left and right wheels – and the body. It might not sound like much, but geometrically speaking, this is a lot for axle length, and it should make for a more stable car. The Japanese version definitely felt top-heavy.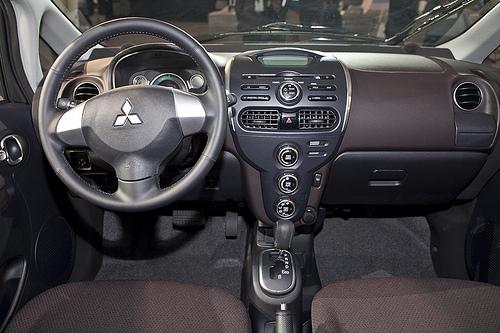 As for the overall width, it changed mainly to incorporate side-impact protection and curtain airbags. There are no official dimensions yet, but it didn't feel wider to me. The seats, unfortunately, haven't been widened to accommodate American rears.
The car is slightly longer overall because the bumpers have been built out to meet U.S. crash standards. Frankly, the protruding front bumper recalls the Chrysler PT Cruiser, and the rear has a Nissan Cube look. All for the same reason: Styling is dictated as much by regulations as it is by the designer's pen.