Conan O'Brien Giving Away 20 Chevy Cruzes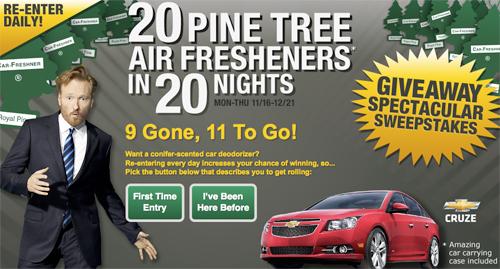 Conan O'Brien's latest late-night show on TBS has been getting mixed reviews, and after the first week, I've forgotten to tune in myself.

Last night I caught up on Tuesday night's show. (I'm not a late-night person anymore.) Besides having Slash sit in on guitar with the band, what surprised me most was the giveaway the show is in the middle of. Conan is giving away 20 new pine-scented air fresheners. And you guessed it, they're inside a new Chevy Cruze.

Nine people have already won cars, and 11 remain. To sign up, visit www.teamcoco.com/chevycruze (which was shown on the screen with a picture of Slash instead of "/" — perhaps the funniest joke of the night).

Since I can't enter, the giveaway won't get me to tune in more often, so Conan better improve his monologues.