Mini Cooper Paceman Concept at 2011 Detroit Auto Show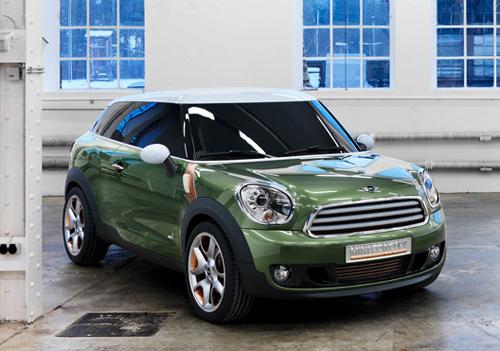 Looks like: A two-door Countryman
Defining characteristics: Two fewer doors than a Countryman
Ridiculous features: Naming this something different from Countryman Coupe
Chance of being mass-produced: Highly likely
Just in time for the holidays, Mini is treating its fan(atics) to an early look at the concept it will roll out at the upcoming Detroit auto show in early January. Called the Paceman — perhaps the worst concept name I can recall — this concept shows what a two-door version of the new Countryman SUV would look like.
It looks like ... a two-door Countryman, and that isn't awful. But the sloped roof, with the kink near the rear, seems hackneyed. It also reminds many in our offices of the Land Rover Evoque, in either its two- or four-door iterations.
The Paceman is powered by the same engine as the John Cooper Works version of the Mini hatchback, a turbocharged four-cylinder good for 211 horsepower teamed with all-wheel drive.
It promises to be a fun ride, and the only way you'd get Mini's ultimate engine teamed to all-wheel drive as of now.

We foresee this either being the vehicle that accomplishes that mission, or Mini just makes a JCW version of the current Countryman and be done with it. Or Mini could do both. With a sports car-like Mini on the horizon, Mini could have as many models as many larger manufacturers.