2011 Ford Fiesta Aims at 40 mpg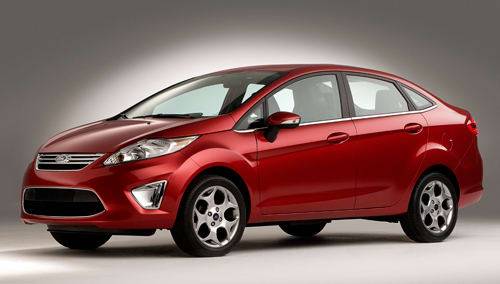 &&&&&EMBEDDED_ELEMENT_START&&&&& {"id":1420668669180,"originalName":"2015_03_04_17_00_48_684_http___blogs_cars_com__a_6a00d83451b3c669e2012875fced50970c_800wi","name":"MMS ID 46696 (created by CM Utility)","URI":"/87/331195334-1425510048887.","createDate":"2015-03-04 05:00:48″,"metadata":{"AUTHOR":"automatic-content-migration","KEYWORDS":""},"href":"https://www.cstatic-images.com/stock/1170×1170/87/331195334-1425510048887.","description":"Came from https://www.cars.com/.a/6a00d83451b3c669e2012875fced50970c-800wi","externalid":"46696″,"updatedby":"cmuadmin","updateddate":1425511442647,"associations":{}} &&&&&EMBEDDED_ELEMENT_END&&&&&
Competes with: Chevy Aveo, Toyota Yaris, Honda Fit
Looks like: An attractive global Ford small car gets Americanized
Drivetrain: 119-hp, 1.6-liter four-cylinder with five-speed manual or six-speed dual-clutch automatic transmission
Hits dealerships: Spring 2010
We have all the details on the U.S. version of Ford's global small car, the Fiesta, but the feature that stands out above all others is its mileage. A special SFE Package is predicted to get 30/40 mpg city/highway, making it the second-most fuel-efficient non-hybrid car on the market. The Smart ForTwo is the most efficient.
The Fiesta's other transmission options include a standard five-speed manual transmission, which returns 29/38 mpg, and a six-speed automatic that gets 30/38 mpg without the SFE Package. The high mileage is attributed to the advanced engine that puts out 119 horsepower. The Toyota Yaris gets 29/36 mpg with just 106 hp.
The Fiesta comes in S, SE, SEL and SES trim levels. The S comes as only a sedan, the SE comes as either a sedan or five-door hatchback, the SEL as only a sedan and the SES as a five-door hatchback.
Going with the base S won't get you much: air conditioning, an AM/FM stereo with an MP3 jack (no CD player), 15-inch steel wheels and a tilt/telescoping steering wheel. While it doesn't say it in the press release, it seems this model will have manual windows. All Fiestas also come with seven airbags, including a front knee airbag for the driver.
SE models add keyless entry, 15-inch aluminum wheels for the sedan or 16-inch aluminum wheels for the coupe, a CD player, visor mirrors, power windows with automatic driver's button and metallic interior trim. There are a number of option packages for the SE, which will likely be the most popular trim level.
Both the SEL and SES will come with a premium six-speaker stereo with Sync and steering-wheel controls, ambient lighting, LED headlights, heated exterior mirrors with turn-signal indicators and 16-inch aluminum wheels.
The design of the sedan looks a bit compromised and for seemingly no reason adds a small three-bar chrome grille when it isn't needed. The hatchback carries more of the look of the global Fiesta but also adds some shiny parts on the lower part of the front end.
With the varying levels of equipment, we're guessing the Fiesta will have a very low starting price for the S model that will quickly increase in the higher trims. If it can compete with the Yaris and Honda Fit on price, it looks like the mileage figure alone will be enough to get shoppers' attention.