2012 Volkswagen Passat at the 2011 Detroit Auto Show
Competes with: Honda Accord, Mazda6, Kia Optima
Looks like: Did we download new Jetta photos instead of New Passat photos?
Drivetrain: 170-hp, 2.5-liter five-cylinder with five-speed manual or six-speed automatic; 140-hp, turbo-diesel 2.0-liter four-cylinder making 236 lbs.-ft. of torque with six-speed DSG; 280-hp, 3.6-liter V-6 with six-speed DSG
Hits dealerships: 2011
Witness Volkswagen's latest pitch for relevancy to America's family-car shoppers: The successor to the VW Passat — a car with a starting price so high ($27,195 for a 2010) it priced itself out of the segment — will keep its nameplate, but not its price. When the new Passat hits dealerships later this year, VW says it will start around $20,000.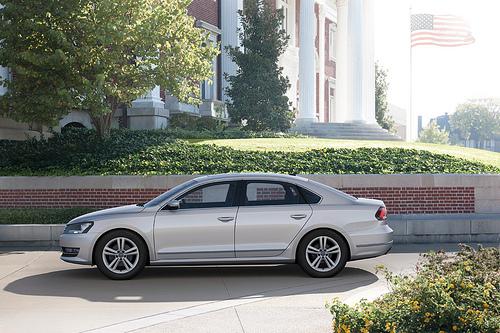 It's a move similar to the new Jetta, whose redesign came with a steep drop in price. Going forward, both cars will make up Volkswagen's "core models" in America, Volkswagen of America CEO Jonathan Browning told reporters. Like the Jetta, the Passat is significantly larger than its predecessor: It's about 4 inches longer, which VW says translates into a significantly roomier backseat.

From the press photos, it's difficult to tell the Passat apart from an uplevel Jetta. It's larger by nearly 10 inches, bumper to bumper, but it sports a similar grille — with three horizontal bars instead of two — and spread-wide headlights. The tail carries a virtually identical theme to the Jetta. It's a clean, if nondescript, look.

The cabin looks a bit more conventional than the outgoing Passat, with fewer but more upright angles. Leather upholstery is optional, but Volkswagen touts a number of standard features even in the base Passat S, including automatic climate control and Bluetooth connectivity. It also comes standard with a five-speed manual transmission. Move up to the uplevel SE and SEL — better trim names than the prior Komfort and Lux, we might add — and the Passat can have keyless access with push-button start, power front seats, a choice of two navigation systems and a premium stereo with collaboration from guitar-maker Fender.

Alas, the Passat's turbo 2.0-liter four-cylinder is gone. In its place is the 2.5-liter five-cylinder that provides not-so-refined motivation to VW's smaller cars. One upside: The automaker's 280-hp, 3.6-liter VR6 — which we haven't seen in a Passat since the 2008 model year — will make a comeback. VW says it should get 28 mpg highway, which is up 2 mpg over the last VR6 Passat. For the first time since 2005, the Passat will also offer a turbocharged four-cylinder diesel, which VW expects to be rated at 43 mpg highway. That would give the Passat the sort of mileage to compete with the most efficient hybrid family cars. Diesel variants of the Jetta and Golf have been strong sellers for VW even when gas prices have been below $3 a gallon.

In its final year, the previous Passat started at a pricey $27,195, but it came with a lot of equipment: heated leatherette seats, a moonroof and the like. Volkswagen can trim a lot off the price simply by cutting features; the Camry and Accord, after all, don't come standard with any of that. The larger question concerns cabin materials, a traditional strength for VW, but an area where the Jetta took a dive with its redesign, though that hasn't stopped shoppers from buying it. We won't render a verdict on the Passat until later on today, when we get a chance to poke around the car.