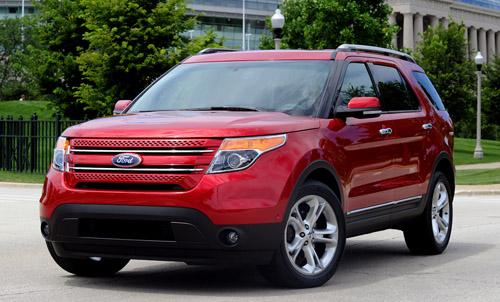 Ford's 2011 lineup enters the new year with a robust range of cash-back offerings and low-financing deals right off the bat.
Recently launched vehicles, including the 2011 Ford Explorer, already have $1,000 cash back and a reasonable $359-a-month lease promotion in some regions.
The 2011 Ford Fiesta, which long had no real incentives, now has a $500 cash-back deal or 3.9% financing for 60 months. The redesigned 2011 Ford Edge gets $1,000 bonus cash combined with a low financing deal. The 2010 and 2011 Ford F-150 have a low deal, but there's also $2,000 on the hood.
Overall, Ford's incentive program looks pretty aggressive for January. Most incentives end Jan 31.
---
Ford Cash Back/ Financing Deals
2011 Ford Fiesta: $500 or 3.9% for 60 months
2011 Ford Focus: $3,000 or 0% for 60 months
2011 Ford Fusion: $2,000 or 0% for 60 months
2010 Ford F-150: $2,000-$4,500 cash back or $2,000 and 4.9% for 60 months
2011 Ford F-150: $2,000-$3,500 cash back or $2,000 and 4.9% for 60 months
2011 Ford Ranger: $3,000 cash back or $1,000 and 0% for 60 months
2011 Ford Edge: $1,000 cash back or $1,000 and 3.9% for 60 months
2010 Ford Escape: $2,000 cash back and 0% for 60 months
2011 Ford Escape: $2,000 cash back and 0% for 60 months
2011 Ford Expedition: $3,000 cash back or 0% for 60 months
2011 Ford Explorer: $1,000 cash back or 4.9% for 60 months
2011 Ford Flex: $2,500 cash back or 0% for 60 months
2011 Ford Mustang V-6/GT: $1,500 cash back or 2.9% for 60 months
2011 Ford Taurus SEL: $2,000 cash back or 1.9% for 60 months
---
Lease (not available in all regions):
2011 Ford Fiesta SE (automatic): $169 for 24 months, $1,819 due at signing
2011 Ford Explorer XLT: $359 for 24 months, $3,558 due at signing
2011 Ford Escape XLT: $259 for 24 months, $2,809 due at signing
2011 Ford Edge SE: $289 for 24 months, $3,164 due at signing
2011 Ford Fusion SE: $199 for 24 months, $2,549 due at signing
2011 Ford Mustang V-6 (automatic): $279 for 24 months, $2,594 due at signing
2011 Ford Taurus SEL: $349 for 24 months, $3,348 due at signing
2011 Ford F-150 SuperCrew XLT 4X4: $259 for 24 months, $3,849 due at signing