New 2011 Chrysler Models Get Incentives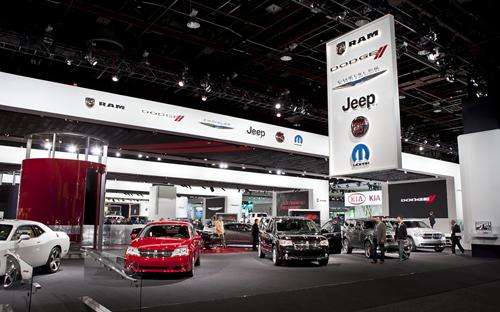 It's a fresh start for Chrysler in 2011, according to CEO Sergio Marchionne. The company has shown off — and started to sell — 14 new or refreshed models, many of which have reduced prices or more content for the same price compared with their predecessors. At least for January, the new metal means Chrysler's reliance on big incentives has somewhat diminished, but there are some deals even on 2011 models.
Most of the big cash-back incentives for the 2010 models are pretty much gone now. So if you were still angling for the big $4,500 cash-back deal on the 2010 Jeep Liberty or Grand Cherokee, you're out of luck. But there's still $3,000 on the 2010 Dodge Grand Caravan and $1,500 cash back on the 2010 Chrysler Town & Country. Both minivans were significantly upgraded for 2011.
The 2011 Dodge Nitro has a new $2,500 cash-back program (the most on any 2011 model right now), and the 2011 Dodge Caliber has $1,500 cash back. The Nitro received no significant changes from 2010, and the Caliber had only minor work done inside.
The new 2011 Chrysler 200 and 2011 Dodge Avenger already have $750 on the hood, and the new 2011 Jeep Compass and 2011 Jeep Patriot get $1,000 cash back each.
The Ram truck brand continues its Engine Bonus Cash program for most of its 2011 models, offering $500 to $1,000 cash back depending on powertrain.
Any remaining 2010 models have 0% financing for up to 72 months. Most 2011 models get a 0% or 1.9% financing option for up to 72 months.
Chrysler's incentives expire Jan. 31.
---
Ram Trucks
Engine Bonus Cash (can be added to cash-back or financing incentives):
2011 Ram truck equipped with a V-6 engine: $500
2011 Ram truck equipped with a V-8 or Cummins diesel engine: $1,000
Cash-back or special financing:
2011 Dodge Ram 1500: $1,000 or 0%-6.9% for up to 72 months
2011 Dodge Ram 2500/3500: 0.0%-6.9% for up to 72 months
2011 Dodge Dakota: 0.0%-6.9% for up to 72 months
---
Chrysler
2010 Chrysler Town & Country: $1,500 cash back or $750 and 0% for up to 72 months
2011 Chrysler Town & Country: $750 loyalty cash and 0%-6.9% for up to 72 months
2011 Chrysler 200: $750 cash back or 2.9% for 60 months
---
Dodge
2010 Dodge Grand Caravan: $3,000 cash back or 0% for 72 months
2011 Dodge Caliber: $1,500 cash back or 0% for 60 months
2011 Dodge Challenger: $1,000 cash back or 3.9% for 60 months
2011 Dodge Nitro: $2,500 cash back or 0% for 36 months
2011 Dodge Avenger: $750 cash back or 2.9% for 60 months
---
Jeep
2010 Jeep Wrangler/Unlimited: $1,000 cash back or $1,000 back and 3.9% for 60 months
2011 Jeep Compass: $1,000 cash back or 2.9% for 60 months
2011 Jeep Patriot: $1,000 cash back or 2.9% for 60 months
2011 Jeep Grand Cherokee: 3.9% for 60 months
---
*All 2010 Chrysler models are eligible for 0% for up to 72 months