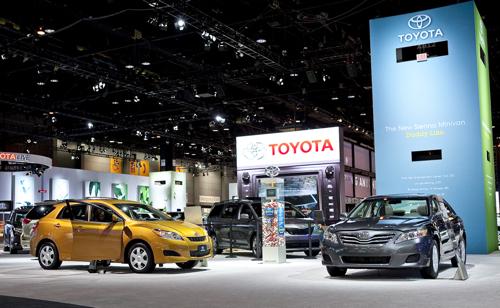 Toyota claims its 45,070-square-foot display at the upcoming 2011 Chicago Auto Show will be the biggest ever seen in the U.S. While we'd generally take the company's word for it, we checked with Paul Brian, Chicago Auto Show spokesman, who confirmed it will be the largest display the Chicago show has ever hosted.

Not only is Toyota expanding its standard display — complete with a "Prius Zone" to show off the new Prius V and Prius Plug-in — it's also constructing a second 50,000-square-foot driving course where show-goers will get to ride in a number of new Toyotas.

Chrysler launched this type of indoor driving course a few years ago, and the domestic automaker will once again feature a course in Chicago's McCormick Place. Brian confirms that not only will Toyota and Chrysler offer rides but so will Ford with a track for its new Explorer. Chevy will also have one for its Volt.

While the Chicago Auto Show doesn't normally pack the same number of big media reveals as other auto shows like Detroit, it does boast a huge footprint that's capable of hosting such immense displays. And it gets the show ready in just one week. If you don't think that's impressive, check out the live webcams here and follow the construction.

The Chicago Auto Show media days are Feb. 9 and 10, and the auto show is open to the public Feb. 11 through 20.