2012 Infiniti M35h Hybrid Priced at $53,700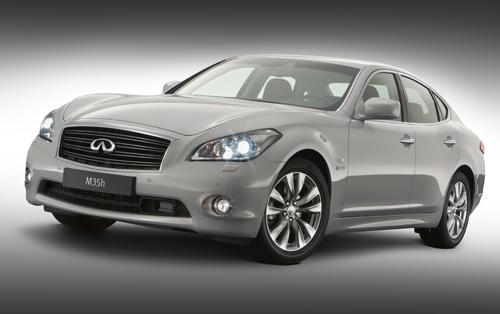 Infiniti priced its 2012 M35h hybrid today at $53,700, excluding a destination charge of $875. With an estimated fuel-economy rating of 27/32 mpg city/highway, the V-6-equipped luxury hybrid sedan has few competitors.
The Lincoln MKZ Hybrid is more fuel efficient at 41/36 mpg and more affordable — $34,605 — compared to the Infiniti, but that model features less power compared to the Infiniti's V-6 power. It is also a smaller sedan. The closest competitor to the Infiniti M35h is the Lexus GS 450h, which has a starting price of $58,050 and gets worse gas mileage. The gasoline-only 2011 M37 with rear-wheel drive starts at $47,050 before a destination charge.
The Infiniti M35h gets standard 18-inch aluminum-alloy wheels, dual-zone automatic climate control, leather upholstery, leather-wrapped steering wheel and shifter, heated front seats, a passive smart key entry system and push-button start, 7-inch display, backup camera, Bluetooth connectivity and a power-sliding moonroof.
Available features include an 8-inch touch-screen display with lane guidance, adaptive cruise control, blind spot warning and intervention systems, and a navigation system, among other high-tech options. For more information on the M35h's hybrid powertrain, check out our First Look here.
The Infiniti M35h goes on sale March 16, and the non-hybrid variants go on sale March 2. The non-hybrid 2012 Infiniti M has a starting of $47,700, which is $650 more than the 2011 model.