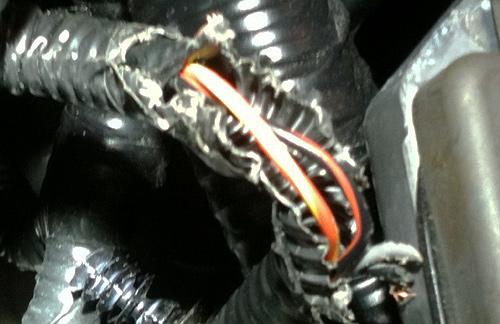 With the Cars.com Chevrolet Volt repaired from its recent run-in with a rodent, we're revisiting the story with a response from Chevy, some reflections and a few of the funnier suggestions we received. As we've reported, a rat made a meal of one of the car's wiring harnesses last week, and now it can be shown, thanks to the dealership that serviced it. The final cost was $750 and the repair took two days. It's good to know a Volt can be serviced in a city that will be one of the last to actually sell the car. (We purchased ours in California.)

Follow our long term EVs on Twitter

Asked for comment, Chevrolet spokesman Rob Peterson said the problem isn't a new one in cold climates. "The risk of damage is no different than that experienced by customers who plug-in to heat their engine block, or whose recently operated engine offers critters a warm reprieve from the chilly temperatures," he said. True enough, but we've parked hundreds of conventional cars in the same structure and never had a problem, and block heaters are relatively rare in the U.S. Cold starts aren't the problem they once were, so block heaters and electric dipsticks are becoming a memory. We suspect we'll hear of similar problems as electric cars with heated batteries proliferate.

In fairness, conditions were extreme when Chilly the rat sought refuge in our Volt. The temperatures were below freezing at best and around zero at worst, and due to the blizzard, the parking structure had light traffic for two days. All the same, city rats aren't exactly bashful, and Todd Dore's electric Beetle, whose battery warmers weren't in use, was right next to the Volt and went unmolested. Perhaps Chilly prefers American fare to German?

We hope it doesn't happen again, but the experience was certainly amusing. In an earlier post, Kieran J. Lindsey — a wildlife expert with the Virginia Tech College of Natural Resources who counts among her specialties the "human-wildlife interface" — introduced the term "parking structure hygiene" to our lexicon. Nissan's Katherine Zachary said this could never happen with the Leaf electric car because the underbody is sealed. She then added, "Don't underestimate our zeal to win the plug-in rat-race. Feel free to send Chilly back to us here in Tennessee anytime ..."

Our region's Coulomb charging station distributor said the company is working on a "rodent attack" alert to join the others, which include the "ground fault" warning I received. This would allow us to set off the car's horn and lights through OnStar. (OK, he didn't actually say that, but I'm pushing for it.)

The suggestions, online and off, were equally entertaining, ranging from placing fabric softener sheets under the hood to obtaining an official Cars.com Jack Russell terrier and a heated doghouse or a bobcat in a parka. One commenter proposed encircling the car with human urine, which prompted usually reserved Cars.com editor Mike Hanley to point out that he already has a lot of responsibilities.

Fortunately our Volt was at the dealership last week, and the temperatures finally climbed this past weekend. Chilly ought to put his little paws together and pray it doesn't get cold again. All the suggestions about adapting the car's sensors to detect rodents were compelling, but we've already witnessed the fallibility of high tech. Call me old fashioned, but I'm leaning toward a pot of coffee and a Taser. Chilly never should have messed with Cars.com.