Tips for Safe Winter Driving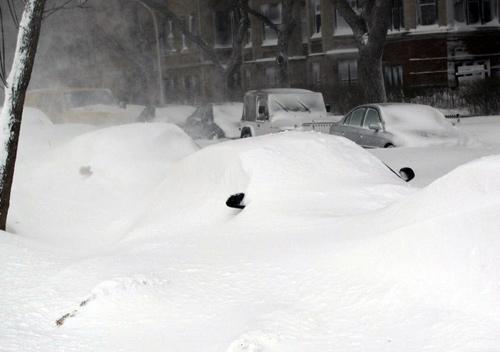 Here at Cars.com headquarters in Chicago, we're getting a sharp reminder of the perils of driving — or at least attempting to drive — in the snow. The blizzard has so far stranded motorists, buried cars and made many roads inaccessible.
As the storm continues to barrel eastward, we thought this checklist, provided by the National Highway Traffic Safety Administration, would be the perfect aid before heading out in these snowy conditions.
Plan Ahead
It's a little late for this one, but before winter starts, it's good to get your vehicle serviced by a mechanic to check for leaks, bad hoses or other repairs
Have a mechanic check that your battery has sufficient voltage
Make sure battery cable connections are secure, and have your charging system and belts inspected, too
Make sure there is enough coolant in your car
Completely fill your windshield washer reservoir with fluid before the first snow hits
Spend the extra dollars for a high-quality "no-freeze" washer fluid
Keep an extra bottle of washer fluid handy in your trunk
Make sure your wipers are working properly with no streaking; if they are, replace them
Take Precautions
Check the weather. Don't hit the road if it's too treacherous to depart
If you absolutely need to go outside, plan to leave earlier or arrive later than usual
Keep your gas tank at least half-full. If you get stuck in a traffic jam, you might need more fuel just to stay warm
Pack a shovel, broom, ice scrapper, flashlight, jumper cables and warning markers or flares
Have an abrasive material, such as kitty litter or sand, ready to help with traction
Have a blanket, cell phone, some water, food and any necessary medicine (for longer trips through rural areas)
On the Road
Always wear your seat belt (This really should go without saying)
Wear winter outerwear, and make sure your passengers, especially children, are bundled up for the snowy conditions
Do not text or engage in distracting activities while driving
Stranded in the Cold
Stay in your car, and don't overexert yourself
Make yourself easy to find by keeping your interior light turned on and removing the cover from the dome light, if possible
Put bright markers or reflective material on your antenna or windows
Avoid carbon monoxide buildup by avoiding long stretches of idling with the windows up. If you have to keep the car running, make sure the exhaust pipe is clear of snow, and keep the engine running just long enough to stay warm
Related
What Tips Do You Suggest for Winter Driving? (Ask.cars.com)