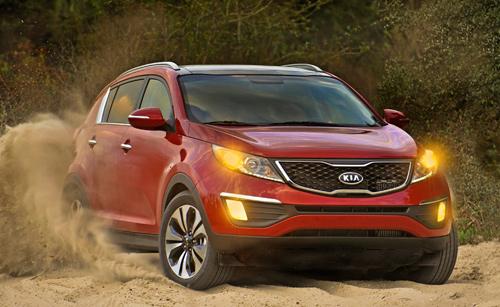 If you liked the sporty looks of the Kia Sportage but weren't impressed with the just-average power of the base model, Kia has corrected that problem.
The 2011 Sportage SX will go on sale later this month with a 256-horsepower, turbocharged 2.0-liter four-cylinder engine that puts out 264 pounds-feet of torque. All this power still returns 27 mpg highway. City mileage is rated at 22 mpg. Kia has confirmed it will have the same six-speed automatic found in the Optima sedan equipped with the same power plant. The sedan also has more power at 274 hp, but it's slightly heavier.
Kia has also adjusted the suspension to actually be firmer than the current non-SX trim levels of the Sportage. We've tested those versions over hundreds of miles and found the suspension to be extremely firm as-is, and it's one of the vehicle's few drawbacks.
Read our review of the standard four-cylinder 2011 Kia Sportage
Pricing will start at $25,795 for front-wheel drive and $27,295 for all-wheel drive. That's a $2,500 bump in price from the top of the line EX trim.
Hopefully for Kia, the allure of so much power in a compact SUV will draw enthusiast drivers who can overlook the firm ride in exchange for the performance. There truly isn't a competitor for it out there with this much space. The closest performance crossover on the market in this price range is the Mini Cooper S Countryman, which is priced at $25,250 for front-wheel drive and $26,950 for all-wheel drive. The Acura RDX has a turbo engine, too, and starts just over $30,000, but it isn't made for performance aficionados.
The SX will also have some unique features, including its own specific style of 18-inch alloy wheels, unique grille, dual exhaust and a revised gauge cluster. There will also be some SX-specific interior color combinations, including orange and blue.
More photos are below.