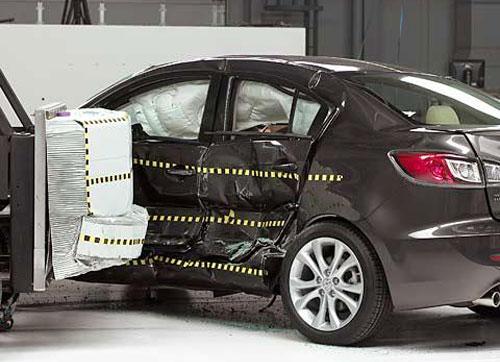 The 2011 Mazda3 sedan and hatch have received the Top Safety Pick designation in the small-car category from the Insurance Institute for Highway Safety.
To earn the award, a vehicle must receive the top rating of Good in front, side, rear and rollover crash tests. The vehicle also must have electronic stability control, which is standard on the Mazda3.
Measurements taken from the head, neck and chest of the crash dummies used during the Mazda3's testing show a low risk of significant injury in a 40-mph frontal offset crash. The crash results did reveal that an injury to the right lower leg is possible. During side impact testing, the driver could suffer a fracture of the pelvis, and rib fractures are possible for the rear passengers in the type of simulated crash performed during IIHS testing.
The Mazda3 is the first Mazda to be named a Top Safety Pick since the agency implemented a tough roof-strength requirement to test vehicle rollover. Twelve other compact cars also are Top Safety Picks, including the Chevy Cruze, Honda Civic and Kia Forte.
To pass IIHS' roof-strength test, a vehicle's roof must be able to withstand the force of four times the vehicle's weight. The Mazda3 sedan can withstand 5.32 times its own weight and the hatch, 5.09.