$4 Gas Shifts Interest to Compacts, Hybrids
Are consumer preferences leaning toward small cars and hybrids over trucks and SUVs now that gas is headed to $4 a gallon?
Yes, but car shoppers aren't shifting their behavior as significantly as they did when gas prices actually topped $4 a gallon in 2008.
When you look at Cars.com data, shoppers are focusing more on compact cars and hybrids as interest in SUVs and crossovers wanes. As a percentage of total new-car searches, SUVs searches have dropped from a 27.7% share of our search in December 2010 to 25.1% in February 2011. Conversely, compact car searches have increased from 9.7% to 11.7% during the same time frame. As a percentage of our new-car search traffic, hybrid and compact car searches in February were the highest we've seen since August 2009 (compacts) and November 2009 (hybrids).
What's behind the shift? Looking back at Cars.com search traffic, we believe the shift directly correlates to rising gas prices. We also think that a national average of $4 a gallon for gasoline would again tip the majority of new-car purchases back to cars. Here's why: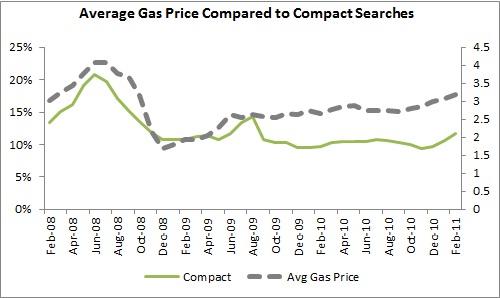 Back in 2008, Cars.com searches showed a dramatic shift in search preferences when gas prices rose past $4 a gallon. The data also suggested an inverse relationship between light trucks and more fuel-efficient cars and hybrids.
In July 2008 when gas prices peaked at a $4.09 retail average for a gallon of regular unleaded gasoline, pickups and SUVs collectively made up 27.4% of all Cars.com's new-car searches. That's compared with 36.2% in February 2008. On the other hand, hybrids and compact cars moved from 15.4% of search to a 26.4% share.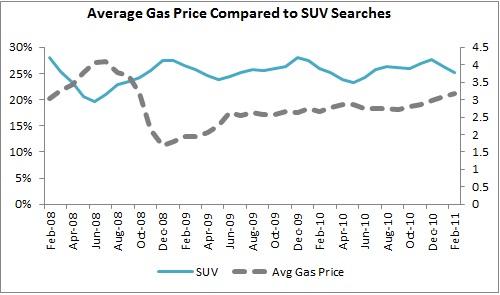 The search data is reinforced by actual sales from the time. Cars finally outsold light trucks and SUVs in 2008; it was the first time cars had outsold trucks in eight years. As the average price of gas fell from from its extraordinary high, so grew consumers' appetite for light trucks. In October 2010, trucks outsold cars by the widest margins since 2005, according to J.D. Power and Associates.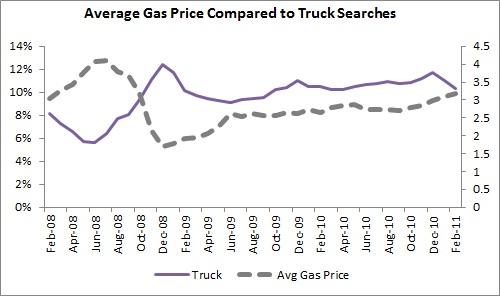 The data also suggest that $4 a gallon gas may indeed be the tipping point to more fuel-efficient options; either truck/SUV buyers opt for something more fuel efficient or drop out of the new-car market altogether (as the above and below graphs illustrate). The tipping point seems to work the other way, too. As gas prices dipped below $4 a gallon in August 2008, there was an immediate drop in hybrid searches — from 5.6% of search to 3.6% of new-car searches. Hybrid searches continued to decline throughout that time, hitting a lull when gas prices increased and then stayed stable around $2.75 from November 2009 to November 2010. Hybrid search maintained levels at a quarter of those seen in July 2008. Hybrid sales have struggled overall, except for Toyota Prius, which still made up close to 60% of all hybrid sales last month.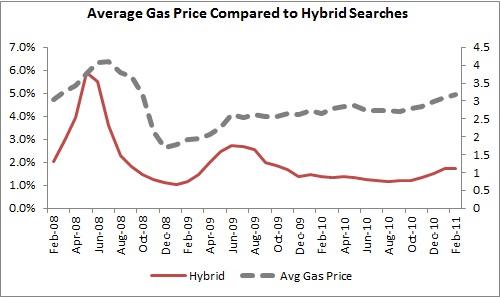 Since mid-2010, light trucks have again outsold cars, but with sharp increases in the cost of gasoline that could change again. We just may be witnessing the start of another shift in car shopping like we did in 2008.
We'll have more on this shift, taking into account the much higher gas prices in March, later this week.