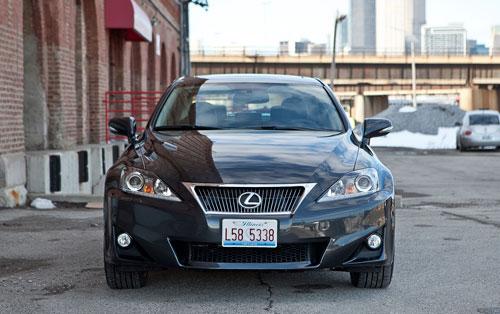 As Japan begins to recover from the tragic earthquake and tsunami of last week, there are many questions for U.S. consumers when it comes to one of the country's chief exports: cars.
All of Japan's automakers are shutting down their assembly plants this week, with most plants closed through at least Wednesday. There are numerous logistical reasons for the shutdowns including power issues and transportation; let alone the need for employees to reconnect with family and friends in the affected areas of the country.
Few automakers had assembly plants in the area impacted by the tsunami, but many suppliers are based there and have not been heard from since the earthquake, according to reports.
If just one part from one supplier is unavailable a new vehicle cannot be built, leaving a manufacturer to extend the shutdown. We have a list of all the Japanese manufacturers and the vehicles that are exported for U.S. sale below along with official statements regarding the earthquake and tsunami.
The most notable is Toyota and its Lexus brand. All Lexus cars are built in Japan and exported to the U.S. We noted earlier this month how the brand was already low on U.S. inventory before the quake, and dealers could find themselves with few options to offer shoppers as disruptions mount.
It's a lack of inventory and the unknown timeframe that will make it hard on car shoppers of these impacted brands and the specific vehicles imported from Japan. A lower supply typically means higher prices or in today's shopping world, fewer incentives. However, current advertised incentives should still be valid.
There are also a number of Japanese suppliers that send parts to both Japan- and U.S.-based automakers for cars assembled in North America. That means Japan's earthquake and tsunami could have a far wider impact than just the vehicles listed below.
Honda

"Damage was widespread in the Tochigi area, where Honda has a number of operations. Honda Motor Co., Ltd. has confirmed the fatality of a Honda R&D associate at the Tochigi R&D Center, when a wall collapsed in a cafeteria. The associate was male, 43 years old. More than 30 Honda associates were injured in the Tochigi area from collapsing ceilings and other damage during the earthquake."

Honda will temporarily close down a wide range of facilities, R&D and engineering centers in Japan from March 14th – 20th.

U.S. Vehicles Potentially Affected: Honda Fit, Honda CR-Z, Honda Insight, Honda FXC Clarity, Acura TSX and Acura RL. A percentage of Honda CR-Vs are also produced in Japan.

Mazda

"Mazda places the highest priority on ensuring the safety of all employees and their families at its suppliers in the affected region. Therefore, Mazda has decided to suspend production at its Hiroshima and Hofu plants from the night shift on March 14 through to the night shift on March 16, 2011."

U.S. Vehicles Potentially Affected: Mazda3, Mazda2, Mazda5, Mazda MX-5, Mazda RX-8, Mazda CX-7 and Mazda CX-9

Mitsubishi

"We've received word from Japan that none of our manufacturing facilities in Japan sustained damage significant enough to affect production. MMC is suspending plant operations on March 14th (Mon) and 15th (Tue), to prioritize safety verifications at our suppliers."

U.S. Vehicles Potentially Affected: Mitsubishi Lancer, Mitsubishi Outlander and Mitsubishi Outlander Sport
Nissan

"[We're ] fully cooperating with the government's request to place national priority on securing electricity for areas in need. Nissan and its group companies will proactively take measures to conserve electricity usage in all of its activities."

U.S. Vehicles Potentially Affected: Nissan GT-R, Nissan 370Z, Nissan Leaf, Nissan Quest, Nissan Cube, Nissan Murano, Nissan Juke, Infiniti G Series, Infiniti M Series and Infiniti FX Series

Suzuki

"Suzuki Motor Corporation today announced there is currently no reported harm to Suzuki's personnel, headquarters or manufacturing plants located in the Shizuoka Prefecture region. The earthquake's epicenter was located 240 miles north of Tokyo while Suzuki's headquarters are in Hamamatsu City, which is 158 miles south of Tokyo. Suzuki closed all Suzuki Motor Corporation plants in Japan on 14 March because Suzuki placed priority on the safety of all at subsidiaries and suppliers as well as their family members. Suzuki will suspend production at these plants on 15 and 16 March. The operation after 17 will be decided after we assess the situation."

U.S. Vehicles Potentially Affected: Suzuki Kizashi, Suzuki Grand Vitara and Suzuki SX4

Subaru

Fuji Heavy Industries, parent company of Subaru, has not released a statement regarding its operations. We have reached out the company, but have not received a response.

U.S. Vehicles Potentially Affected: Subaru Impreza and Subaru Forester
Toyota

"We are halting production at all plants in Japan (including subsidiary vehicle manufacturers) from March 14 through March 16."

U.S. Vehicles Potentially Affected: Scion xB, Scion xD, Scion tC, Toyota Yaris, Toyota 4Runner, Toyota Land Cruiser, Lexus LX 570, Toyota Prius, Toyota FJ Cruiser, Lexus ES, Lexus GS, Lexus GX, Lexus LS, Lexus LX, Lexus LFA, Lexus HS, Lexus IS and Lexus CT 200h