Movers and Losers: February 2011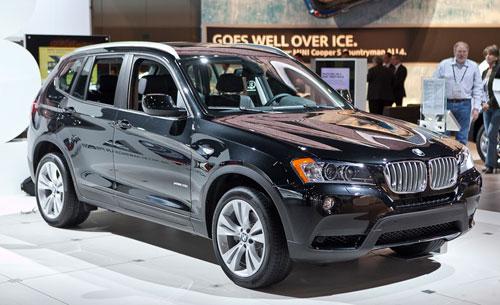 After a car has been on sale for a month or two, its inventories build and it generally takes longer to sell. That happened to last month's No. 1, the redesigned Dodge Durango. That new model still made February's list of Movers, but the No. 1 in February, the BMW X3, moved up from the No. 2 spot last month.

Like the Durango, the X3 was redesigned from the ground up. Unlike the Durango, BMW is aggressively trying to get potential owners to custom order their X3s using a system we detailed before. This new tactic could keep the X3 high atop this list in the future.

One surprise drop-off was the new Kia Optima. It might not have made it into the top list, but at 24 days to sell from the time it arrives at dealers until it goes home with an owner, it far outpaced the average of 47 days in February.

Our full lists, including our picks for potential good buys and our methodology, are below.
Winners: February 2011
2011 BMW X3: 9 days
2011 Dodge Charger: 11 days
2011 Ford Explorer: 11 days
2011 Audi Q5: 12 days
2012 Volvo S60: 12 days
2011 Dodge Challenger: 13 days
2011 Chevy Equinox: 14 days
2011 Mini Countryman: 14 days
2011 BMW 535xi GT: 15 days
2011 BMW X5: 15 days
2011 Hyundai Elantra: 16 days
2011 Dodge Durango: 17 days
2011 GMC Terrain: 17 days
2011 Honda Odyssey: 17 days
2011 Porsche Cayenne: 17 days
2011 Nissan Juke: 18 days
2012 Mazda 5: 18 days
2011 Audi Q7: 19 days
2011 Chrysler 200: 19 days
2011 Lexus RX 450h: 19 days
Losers: February 2011
2011 Mitsubishi Eclipse Spyder: 169 days
2011 Infiniti M56: 146 days
2011 BMW Z4: 137 days
2011 Toyota Camry Hybrid: 132 days
2011 Jaguar XKR convertible: 132 days
2011 Nissan Versa sedan: 119 days
2011 Volvo C70: 118 days
2011 Mitsubishi eclipse coupe: 114 days
2011 Mercedes-Benz SL63: 112 days
2011 Volkswagen Eos: 111 days

Cars.com Picks
2011 BMW 335d: 108 days
2011 Mazda2: 105 days
2011 Infiniti M37: 101 days
2011 BMW 335is: 100 days
2011 Nissan Versa hatchback: 98 days

About the Lists
The Movers and Losers list reports the average number of days it takes to sell models from the day they arrive on the lot until the final paperwork is signed by a buyer. This is not a days-of-inventory list like you may find on other websites. We're now focusing on only 2011 and 2012 model years.

For Movers, we only list vehicles that pass a certain threshold of sales in order to weed out limited editions, ultra-high-performance cars and others that might skew the numbers or otherwise inaccurately portray popularity. For Losers, we have removed any threshold to reflect 2011 models that may have the greatest incentives.