Toyota Expects to Have 10 New Hybrids by 2015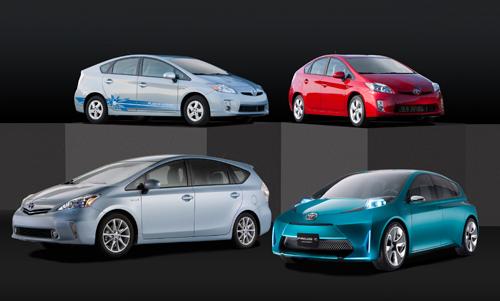 Toyota plans to launch 10 all-new hybrid models globally by 2015, according the company's just-released business plan.
If a previous report on Toyota's hybrid developments is still correct, six of the 10 hybrids will go on sale by 2012, according to the New York Times. The new hybrids will include a mix of dedicated hybrids and hybrid trims of existing gasoline-powered models. It's important to note that not all six of these new hybrids will be sold in the U.S., only "some" the Times reported.
We already know about the 2011 Lexus CT 200h and the more roomy 2011 Toyota Prius V. A new Prius for Europe and Japan was unveiled at the 2011 Geneva International Auto Show. It looks similar to the Prius V but can seat seven and features lithium-ion batteries instead of nickel metal hydride batteries. Toyota likely considers this to be a separate model.
A more compact Prius, like the Prius C concept shown above, will also likely be in the mix. A plug-in Prius capable of 13 miles of range will go on sale in early in 2012.
Toyota also said it will continue to work on pure electric vehicles and fuel-cell vehicles. Toyota showed an electric version of its RAV4, co-developed with Tesla Motors, at the 2010 L.A. Auto Show in November.
According to the business plan, Toyota will also further improve the fuel economy of its gas-only vehicles. Also mentioned in the plan are further efforts to position Lexus as a truly global luxury brand, emphasizing appealing designs and an emotive ride. Toyota-branded vehicle designs will also be improved.
If all goes according to plan, Toyota will have about 24 hybrid models on sale by 2015. The automaker plans to have a hybrid variant of all its vehicles by as early as the 2020s.