2011 New York Auto Show Winners and Losers: Concept Cars
Only a handful of concept cars debuted at the New York auto show, but editors Mike Hanley, David Thomas, Kelsey Mays and Joe Wiesenfelder trekked the show floor to see them up close — and give them a thumbs up or down.
Scion FR-S
Mike Hanley: Winner
The look of the FR-S concept is just as impressive as Lexus' extraordinarily expensive LFA supercar, but the production version of this concept should be attainable without needing to stage a bank heist. Keep everything the same — like the rear-drive layout and aggressive-looking skin — and Scion could have shoppers storming its showrooms.
Joe Wiesenfelder: Winner
No way in the world will a real product look like this, but it's a welcome show car in an era devoid of ambitious concepts. You can't help but linger and stare at it.
David Thomas: Winner
This was the best-looking car of the show, period. I'm a bit annoyed that this is the third concept of the same car, but it's the best one, and I think the production car will look a lot like it ... with smaller wheels. The world needs more affordable sports cars.
Kelsey Mays: Winner
The LFA similarities are striking. If the eventual production model looks like this concept, Scion should have no problem attracting more young buyers into its fold.
---
MH: Loser
The LF-Gh's hourglass-shaped grille is a radical departure for the conservative luxury brand. I wouldn't mind seeing it migrate to other Lexus cars as long as they're able to back up the aggressive look with performance to match, but the rest of the concept is downright boring with plain, slab-sided doors. There's still too much "old" Lexus in this car.
JW: Loser
No way in the world will a real product look like this (Part II), and for that we should be grateful. I'm not objecting to the front end so much as noting that it doesn't match the rest of the car. Lexus needs to get more daring with design, but this goes too far, in an inconsistent way.
DT: Loser
Joe is wrong on both; I bet it looks just like this. But I completely agree with Mike: While the grille is aggressive and unique, the rest of the car is ho-hum. Maybe it wouldn't be so boring if the front weren't so aggressive. It reminds me of Audi's new A8 in that way.
KM: Winner
I could see the GS actually looking like this. If Lexus' entire lineup follows suit, the brand could present a compelling variation on Audi's noses. I don't get the inconsistency argument; throw on another cut line, plus the requisite side mirrors and door handles, and the GS' sides won't seem so formless anymore. The rear evokes the prior-generation 5 Series but avoids the BMW's ruinous taillight-to-C-pillar cutline. I agree with Mike: Lexus is no performance juggernaut, and there may not be the bite to match the bark. But all we know right now is styling, and I have no beef with that.
---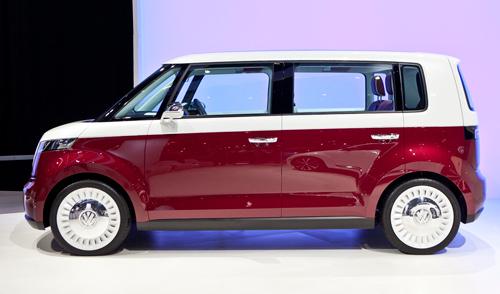 MH: Winner
I'm a little tired of the way Volkswagen teases car buyers now and then with the release of a Microbus-inspired concept, but I can't help but like the Bulli. It's small enough that it could get good fuel economy with the right drivetrain but offers good passenger room. Bite the bullet and build it, VW — or quit toying with us.
JW: Winner
My work here is done; Mike said it all perfectly. The only difference this time is that the Microbus-inspired concept is smaller, and the time is right for a small van — especially one that looks better than the Mazda5 and upcoming Ford C-Max.
DT: Winner
Two rows of bench seats are about the only practical part of this concept, but I want one nonetheless. The glass ceiling creates an airy cabin so the dark-red interior isn't overwhelming. Then you have the amazing iPad integration — better than most built-in multimedia systems we see — and the bedlike floor the seats can fold into. Concept ideas I want to see in reality, and there's no reason they can't be.
KM: Loser
I remain dubious of touch-screen controls, iPad or otherwise, in a moving vehicle. (Cars.com's own Chevy Volt, and at least three Ford and Lincoln products, are Exhibits A through D.) The Bulli is otherwise impressive, but I feel compelled to issue a protest vote here. Like Mike said, Volkswagen needs to build something already, or stop the teasing.
---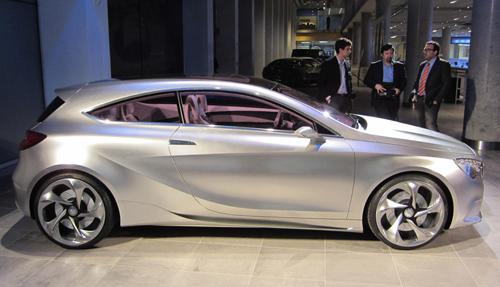 MH: Winner
The heavy use of brightwork in the grille is a little distracting, but as hatchbacks go, this one's quite stylish. Mercedes needs to find ways to increase its fleet fuel economy in the U.S., and this wouldn't be a bad way to start.
JW: Winner
No way in the world will a real product look like this (Part III), but it should. There's a long history of luxury automakers dabbling in small, affordable cars — and by that, I mean practical ones, not roadsters. The current A- and B-Class models are essentially econocars — cute little boogers that would be bad for a luxury brand in the U.S. market. However, something like this, under whatever name, would probably do quite well.
DT: Loser
Yeah, I hate to break it to everyone, but 'mericans are different. We like our trucks big and our luxury cars expensive. The BMW 1 Series didn't fly off lots, and I don't see the A-Class doing it, either, without some extreme gas mileage to back it up. Like Prius gas mileage. It's pretty, but I'd rather see the other three concepts mentioned above make it to production first.
KM: Loser
Like Dave said, the 1 Series, Volvo C30 and Audi A3 aren't exactly huge sellers. Mercedes stressed that the A-Class represents something totally different — from the 1 Series and A3, at any rate — but I still see little evidence that Americans will snap up entry-level luxury cars.