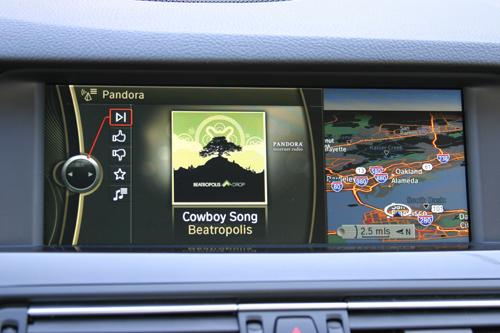 BMW's media interface now supports the popular Pandora Radio music-streaming service and streaming audio via connected iPhones or iPod Touch devices, the automaker announced today.
Owners of 2011- and 2012-model-year BMWs are able to use the online streaming service, which is part of the BMW Connected system. It's a $250 option on some models. The application allows iPhone and iPod Touch owners to access Twitter, Facebook and now Pandora via the controls in their car.
The new Pandora service works similarly to other BMW Connected features. Once your Apple product is plugged in via USB, you can access Pandora Radio using controls on the steering wheel, center console or iDrive. You can also add new radio stations or preselect existing ones and bookmark songs with the in-car setup.
The new feature is similar to one Mercedes-Benz added to its vehicles late last year. Mercedes owners can access Pandora via a BlackBerry or iPhone with Bluetooth streaming audio.