BMW's First Electric Vehicle Offered as $499 Monthly Lease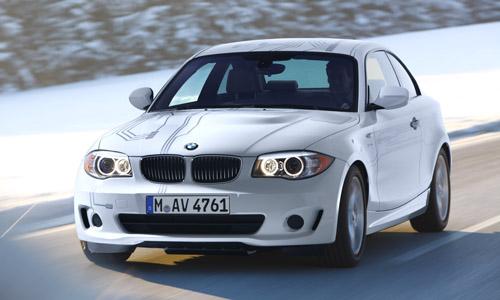 BMW announced lease pricing and final specifications for the brand's first electric vehicle, the ActiveE. The model will go on sale to select customers this fall for $499 a month for 24 months with $2,250 due at signing. The reservation process will begin late this summer.
By comparison, Nissan offers the Leaf for $349 a month for 36 months with $1,999 due at signing. Since the BMW is more luxurious and has a more powerful electric motor, the price difference seems palatable and compares favorably to leasing a 135i for $399 a month for 36 months.
Unlike the Leaf or Ford Focus Electric, the ActiveE will only be leased, and sold in limited numbers. BMW will start shipping 700 of the EVs this fall in the following markets: Los Angeles, San Diego, San Francisco, Sacramento, New York, Boston and Connecticut.
The ActiveE builds on the success of the Mini E, another EV being leased for field trials in New York and Los Angeles. Right now, 450 people are leasing Mini Es in America. Unlike the Mini E, the ActiveE can seat four people and has about 7 cubic feet of cargo space; the battery pack in the Mini E took up backseat space.
The ActiveE is powered by a 170-horsepower electric motor generating 184 pounds-feet of torque to drive the rear wheels. The motor is powered by a lithium-ion battery that gives the car a range of up to 100 miles per charge. Charging the ActiveE can take four to five hours, which is quicker than the Leaf's eight hours and on par with the Ford Focus Electric. BMW notes that one hour of charging can garner up to 25 miles of range, with a 240-volt charger under certain conditions.
The BMW can accelerate from zero to 60 mph in less than 9 seconds and has an electronically limited top speed of 90 mph. BMW says the handling and acceleration of the ActiveE will be similar to that of a normal gas-powered 1 Series.
Like the Leaf, Focus Electric and Chevrolet Volt, the ActiveE comes with a mobile application, called My Remote, that can precondition the cabin.
While the ActiveE is a production vehicle, the car remains prototype-like, and owners will be contributing to a real-life field trial as they pilot and pay for their ActiveEs. The process will undoubtedly help BMW launch its new all-electric brand, called "I," in 2013, with the i3.