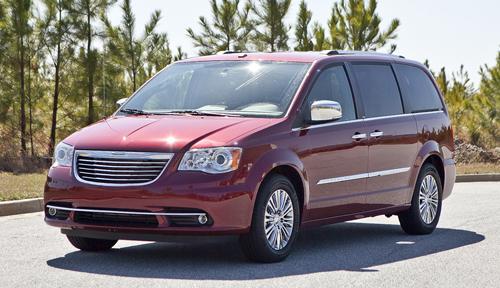 Chrysler has shifted around some of its incentives for the month of April, deemphasizing trucks but placing more cash on the hood of more models from Chrysler and Dodge.
Chrysler has decided to bring back its 60-day guarantee program for the 2011 Dodge Grand Caravan and 2011 Chrysler Town & Country for April. The "Minivan Pledge" works the same way it has in the past — you can return your van back to the automaker within 60-days, no questions asked. While the program may alleviate some buyer's remorse — few people ended up changing their minds during past promotions — the pledge doesn't really offer much in terms of cash back or financing incentives compared with March. 2.9% financing for 60 months is the same as last month. Last month Chrysler offered $2,000 — $4,000 in lease bonus cash on its minivan pair, which helps to reduce the capitalized cost of the lease. Those lease deals might turn out to be a better compared with current lease offerings, depending on your credit worthiness.
The new 2011 Chrysler 200 Convertible gets its first suit of incentives, just in time for the winter's thaw. Chrysler is offering $1,500 cash back or $750 back and 2.9% financing for 60 months with Ally Financial on the drop top. The all-new 2011 Dodge Durango now has some retail customer cash on the hood: $1,000 on the base Express trim.
Continue reading below for all the highlighted deals available for April. Most deals expire on May 2nd.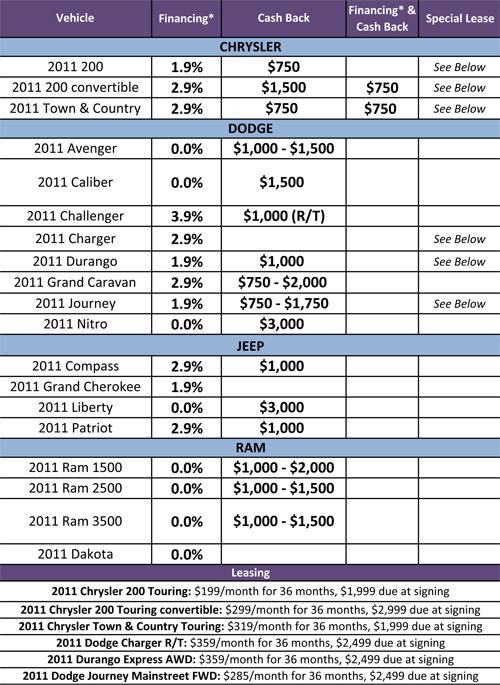 *Financing APRs are for a standard 60 month loan maturity. Combination cash back/ financing deals are only applicable when utilizing Ally Financial. Information comes directly from automaker's own retail website.