How to Live With NHTSA's New Child-Safety Seat Guidelines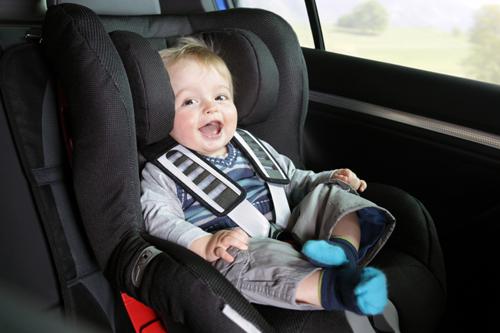 The National Highway Traffic Safety Administration's most recent update to its child-safety seat guidelines recommends that a child should stay in a rear-facing car seat for as long as that seat's weight and height limits allow. In some cases that could be until a child reaches age 2 or 3. As we're discovering through our readers, parents have some real concerns, hesitations and questions with this new guideline. Specifically, where is a growing child supposed to stash their feet and legs when their rear-facing car seat is installed flush up against the vehicle's seatback?
To answer this question, I turned to Jose Ucles, NHTSA's spokesman. Most youngsters who ride in rear-facing car seats for a longer time simply tend to cross their legs in order to fit, Ucles said. As parents, "our main concern should be that the neck, head and spine of our child is protected because it's most delicate until age 3," he said. Comfort should come second to safety.
Would a larger child's legs be harmed in a car accident when sitting in a rear-facing car seat? "NHTSA has not had any reported incidents of children's legs being injured while in a rear-facing infant seat," Ucles said.
Ucles and I agree on a very important point. The biggest challenge with this new recommendation is in training parents to be parents rather than giving in to whining and graduating kids into the next child-safety-seat position earlier than is safe for them.
"As the parent, you're in charge. You're the guardian of that precious life and as such, you need to set the regulation that your kids stays rear-facing as long as they fit within the upper height and weight limits on their child-safety seat," he said.
Ucles' suggestions for keeping kids comfortable and happy when in a rear-facing car seat are:
-Give your child a favorite stuffed toy to play with, preferably one that attaches the child-safety seat so they can't drop it and then distract the driver by wanting it back.
-Play soothing music in the car to keep moods calm and relaxed.
-Talk to your friends about what works for them and try their suggestions.
On that great note, use the comment section below to post your own tried-and-true tips for keeping your little one content longer in a rear-facing car seat. Help a mama out!