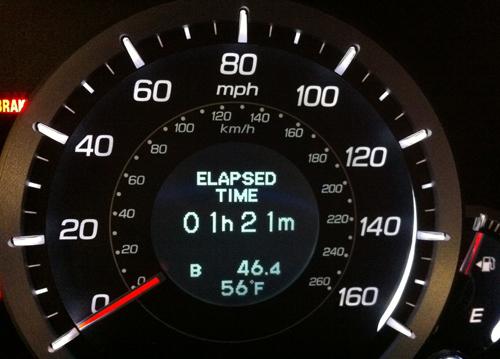 I get in and out of a lot of test cars. For my daily commute, I'd say I travel in upwards of 70 new cars a year. Most of them have a trip computer of some kind that at least tells the average mileage or range. Then there are the more thorough trip computers like the one in the 2011 Acura TSX Sport Wagon, which I'm driving this week, that has average speed, instant mileage and the one I actually hate to see … travel time.
I can easily look at the car's clock — I'm not that bad at math — to know I spent an ungodly amount of time this morning on Chicago's Kennedy Expressway. However, staring between the gauges to see "1 h, 21 m" in digital blue ink after traveling my 23-mile one-way commute is not the way I want to start my morning.
There were no accidents during this morning's commute. This is just a typical morning commute when a few drops of rain are falling. Of course, it's not all bad. I do get to spend time in some great test cars — even if the commute is longer than I'd like.
Luckily, my commute home is usually a 45-minute trip where I get to enjoy the drive and the test car a bit more. That's why I generally spend the morning playing with the technological doodads and the afternoon paying attention to the performance.
For the record, the TSX got nearly 29 mpg on my evening commute and then fell to 23.5 mpg after this morning's 1-hour-and-21-minute commute. It's rated at 21/30 mpg city/highway.
Feel free to complain commiserate about your own commute below and how you make the best of it. Would you want a "travel time" readout?