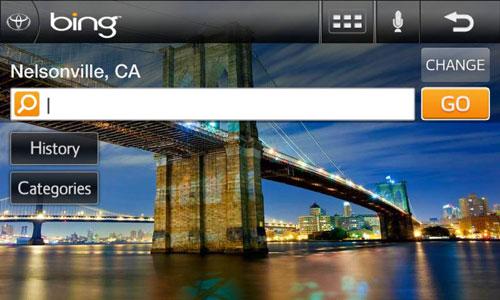 The hottest battlefield in the auto sector isn't being waged under the hood, it's happening on the dashboard. Every carmaker wants the most advanced in-car multimedia system possible. Today, Toyota and Microsoft announced that they'd be working jointly on the carmaker's next-generation in-dash multimedia system.
Toyota wants this new system to live in the "cloud," allowing users can access their data in or out of their cars using smartphones and computers.
Toyota has already integrated Microsoft products like its Bing search engine into current in-dash systems, pictured above. The first use of this new technology will be for the plug-in hybrid Prius being released next year. It will allow users to program the car to charge at peak efficiency and at lower costs when plugged in at home.
Future applications like an OnStar-esque safety suite or concierge service were not mentioned.