Incentives Diet: Buy This, Not That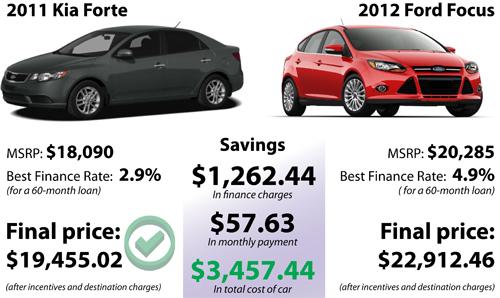 New-car incentives are hard to come by these days. Gone are the big lumps of cash back teamed to low financing offers. Even low financing deals are harder to come by as new models and fuel-efficient cars are in high demand.
Are there deals to be had out there? Yes, but it takes more digging and creative thinking.
We've taken three pairs of cars that highlight this issue. One is a relative bargain with its pure sticker price versus the other while still packing similar features. All are Cars.com Best Bets except the 2012 Ford Focus, which is too new to be considered for the nod.
All the trim levels we picked for these comparisons needed to include an automatic transmission; air conditioning; power locks, windows and side mirrors; keyless entry; cruise control; Bluetooth connectivity; a USB port; and electronic stability control. MSRP prices include destination charges.
Do the bargain choices always win out? Or do high-demand models cost more no matter the sticker price?
2011 Kia Forte EX vs. 2012 Ford Focus SE Sedan
The Forte debuted a few years ago and was a very well-rounded contender in the compact class. You get a lot for your money, and it was named a Top Safety Pick by the Insurance Institute for Highway Safety. The Focus is all new — joining tougher competition like the Chevy Cruze and Hyundai Elantra — and rides and handles better than the Forte, but it's also more expensive similarly equipped.
The Focus is in hot demand. In April, it was the second-fastest-selling car on our Movers & Losers list, taking just seven days to sell after hitting a dealer lot. The Forte sold at a respectable 39-day rate, well below the average of 48 days. Still, that worn luster gives the Forte the edge in terms of financing that will save buyers an additional $1,262.44 in addition to the lower sticker price. The Focus hatchback is pictured above, not the sedan. All pricing and equipment mentioned is for the Focus SE sedan.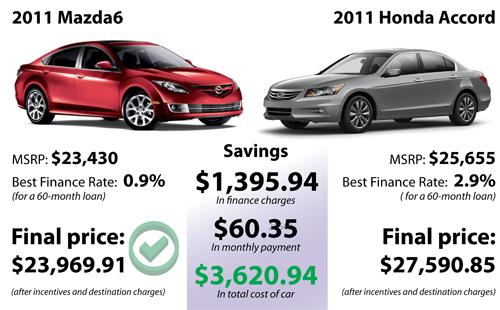 2011 Mazda6i Touring vs. 2011 Honda Accord EX
The Honda Accord is not just one of the best-selling cars in history. It remains well-liked by our editors, holds its value and is reliable, too. It just doesn't come well-equipped at a low price. That gives the Mazda6 an edge in terms of starting price.
While most of our staff like the Mazda6's looks, the looks are clearly keeping people from test-driving it. It has more backseat room than the Accord, and a bigger trunk.
The Accord isn't selling at a quick rate, 51 days, and its financing deal isn't bad. However, the Mazda6 is taking a whopping 87 days to sell, and we'd expect dealers to try and top the financing offer alone, which nets buyers an additional $1,395.94 savings on top of the lower sticker price.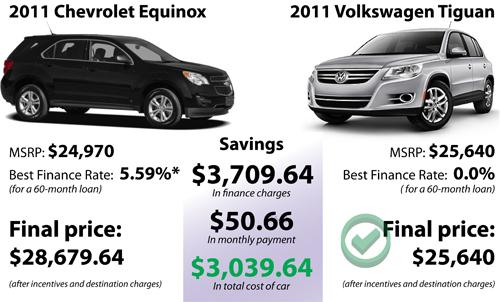 2011 Chevy Equinox 1LT vs. 2011 Volkswagen Tiguan S
There has been no bigger sales success for GM than the Chevy Equinox. The compact SUV that has midsize exterior dimensions isn't much different in practical use than the smaller Tiguan. Our editors rate both highly in terms of driving experience with comfort edging to the Equinox, and sportiness going to the Tiguan with its 2.0-liter turbocharged four-cylinder. Because of that, the Equinox does get better mileage.
Most savvy car shoppers know, however, that VWs come with a price. Here, too, the Tiguan is more expensive than the Chevy when similarly equipped, by $670. However, this is where our exercise gets interesting.
The popular Equinox sells in just 19 days. The Tiguan — due to be replaced by a refreshed 2012 later this year — sold in 37 days. That's still a respectable amount of time, but that's not stopping the finance deal from saving you $3,709.64 that absorbs the higher sticker price, leaving you ahead by $3,039.64 when choosing the Tiguan.
*No financial incentive is offered on the Equinox. Finance rate based off national average, week of May 12th. Source: Bankrate.com