Recall Alert: 2011 Chevrolet Cruze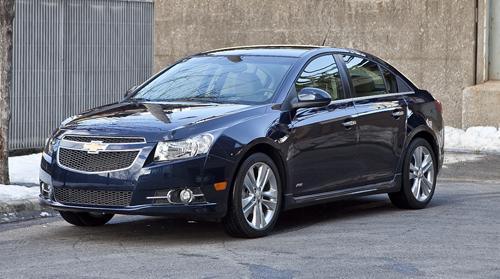 General Motors is recalling all of its 2011 Chevrolet Cruze sedans over potential problems with the steering shaft and automatic transmission linkage, according to the automaker.
The recall affects about 129,000 vehicles. GM wants to make sure the steering wheel is properly installed to the steering shaft, regardless of the transmission. The action is unrelated to an earlier recall of 2,100 Cruze sedans over improperly fastened steering wheels that could detach from the steering column, according to GM spokesman Alan Adler.
GM is also recalling all automatic-transmission Cruzes over a separate issue involving the transaxle. On certain vehicles, the shift lever will appear to be in Park when it is actually in gear. If the parking brake is not used, the vehicle could roll away. About 100,000 automatic Cruze sedans are affected by the recall.
No crashes or injuries have been reported involving either issue, GM says. Unsold vehicles at dealer lots will be inspected before being sold.
GM encourages customers to contact their dealerships and schedule for an appointment for inspection, which should take less than an hour. Concerned owners can call Chevrolet at 800-630-2438 or the National Highway Traffic Safety Administration's hotline at 888-327-4236.