2011 Infiniti EX35 Earns IIHS Top Safety Pick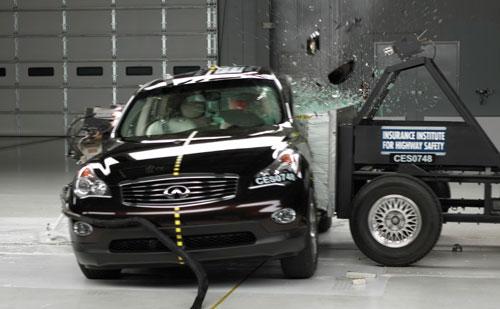 The 2011 Infiniti EX35 was named a Top Safety Pick in the midsize luxury SUV category from the Insurance Institute for Highway Safety today. The 2011 Acura RDX was also tested, but it did not receive the top honor.
The EX35 has won the award in previous years, when the title was given to vehicles earning the agency's top rating of Good in front, side and rear crash tests, and had electronic stability control. This was before IIHS added its roof-strength test, which made it harder for new cars to be named Top Safety Picks. To pass the test, a vehicle's roof must be able to withstand the force of four times the vehicle's weight.
The EX35 was able to withstand exactly four times its weight. The RDX, previously a Top Safety Pick, did not earn the designation because it scored a Marginal rating in the roof-strength test. The luxury crossover could withstand only 2.9 times its own weight.
Neither car has been fully crash-tested using the updated evaluations by the National Highway Traffic Safety Administration