"Cars 2" is a faster, funnier film than its predecessor, and that's in part because racecar Lightning McQueen plays second fiddle to Tow Mater, the affable, bumbling tow truck.
While "Cars 2" has a different visual feel from the first movie, with Tokyo, Paris and London (among other places) remade through the eyes of car lovers, it has an underlying message that's not too far removed from the first, which was, "Take time to see the world around you." The message this time is "Be who you are no matter where you are." The rust-bucket tow truck (voiced by Larry the Cable Guy) takes us through this journey of discovery. He's still Lightning McQueen's best buddy from Radiator Springs. McQueen is voiced by actor Owen Wilson.
Here's the setup for the movie, which opens Friday: McQueen is invited to a new international race circuit that pits the best race cars from different styles (road racers, Formula One, NASCAR and more) in three races in Tokyo (spelled Towkyo on-screen), London and a coastal Italian town that owes as much to Monaco as it does to Rome. McQueen brings Mater along, despite some misgivings at how his, er, down-home buddy will fare in these sophisticated international surroundings. At the same time, Mater winds up in a James Bond-style spy mystery. Watch the backgrounds in each of these cities carefully; you'll see Notre Dame redrawn with grilles, pistons and other car parts integrated into the architecture. A crucial scene is set in "Big Bentley," the renowned timepiece in central London.
This is definitely a car guy's movie.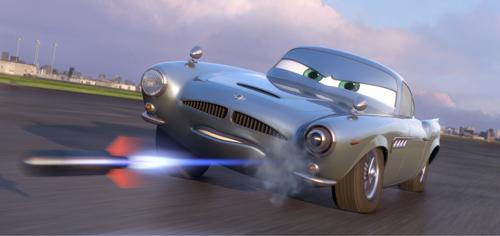 The villains are lemons — in an automotive sense. (Don't try to understand their motivations; there's some alt-fuel talk that is both ridiculous and circuitous, but ultimately, you won't care.) The key henchmen are AMC Pacers and Gremlins, and there's also some "Hugos" that look suspiciously like Yugos. (Perhaps there are still some Yugo execs somewhere who might have sued over their car's portrayal.) The key to discovering the villain comes when Mater recognizes the obscure motor mount bolts. Really.
As we've discussed before, the Pixar people go out of their way to make the cars look realistic, and we saw quite a few iconic cars in this movie, as well. A couple of Fiat 500s stood out in the Italian scene, for example. What looks to be a three-wheel Reliant Robin (a British car) makes an appearance as a confidential informant in Paris.
As a "fish-out-of-water" character, Mater excels. His visit to an automated toilet in Tokyo is worth the price of admission all on its own. His interactions with Finn McMissile (voiced by Michael Caine) are terrific, with a fair dash of action borrowed from both Bond and Pixar's own "The Incredibles." Where the first "Cars" was a sleepy affair for much of the movie, matching the tone of Radiator Springs, "Cars 2" is an action flick from the word go. It's a welcome increase in energy, and it's a much more parent-friendly movie than the original as a result.
There are other movie homages, as well; when the bad-guy bosses get together, it's like a scene out of "The Godfather: Part III." Many of the racing shots seem right out of "Grand Prix," director John Frankenheimer's great racing flick.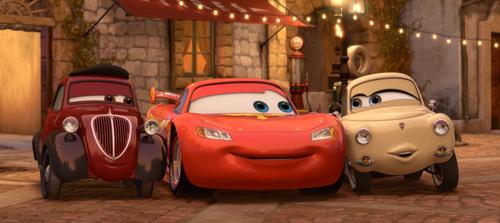 The tension in the plot comes when Mater gets distracted by a girl during the first race in Tokyo, causing McQueen to make a key mistake. McQueen sends him packing, and Mater gets picked up at the airport and whisked into the spy adventure of his lifetime. As one might expect in a Pixar movie, there's a fair amount of talk about the movie's message, though thankfully, the deepest delving into it comes in a comic-action sequence near the end that plays as both a chase and couple's therapy session.
The most interesting concept to emerge is Mater's love for the dents he's gathered with McQueen along the way. His spy girlfriend Holly Shiftwell (voiced by Emily Mortimer) puts it this way: "I'm going to go out and get some more dents." Not a bad approach to life.
Fans of the original movie who want to see a focus on McQueen may be disappointed, but Mater keeps the sometimes-intense action light, and the magic of the Pixar animators make this a movie you'll want to watch several times (with the ability to pause) in order to catch all the automotive in-jokes.