Extreme commuting has nothing to do with dirt biking, skateboarding or skydiving to work; it's defined by the U.S. Census Bureau as someone who spends more than 90 minutes per day on their way to the office. Yup, that's us. Being based in downtown Chicago, some of our commutes are miserable and can bring out the worst — or best for some — gas mileage in the cars we test. We wanted to give an idea of what to expect in these conditions by tracking our gas mileage. The EPA's ratings are more often than not close to real-world numbers, as our previous mileage testing has confirmed. In extreme conditions it's not hard to get worse mileage numbers, though. The EPA's testing takes place in a laboratory on a dynamometer where the car's wheels sit on rollers while the driver follows a specific driving style. For city ratings, the EPA uses an 11-mile cycle that averages 21.2 mph, takes 31.2 minutes and includes 23 stops.
While we don't have a controlled environment like that at the Cars.com offices, we do have the Eisenhower, Kennedy, Stevenson and Dan Ryan highways — four of the most congested roads in Chicago. My real-world commute averages 35 miles one way from the western suburbs to downtown Chicago. It takes 90 minutes on good days and up to three hours on bad days. Those are really bad days. Speeds average 22 to 25 mph and the number of stops is more than I care to think about.
Like our Mileage Challenges, all mileage data is collected from the car's on-board trip computer. As we've reported before they are generally accurate, especially when calculating trips of this length.
The 2011 Chevrolet Cruze and 2011 Hyundai Elantra are two popular commuter cars with high-mileage promises on the highway. We can forget about hitting anything close to these cars' highway ratings on this commute to the suburbs. The Elantra scored just under its 29 mpg city rating, while the Cruze was a few mpg over its 24 mpg city rating. I also put the 2011 Chevrolet Corvette Grand Sport to the test. Like Corvettes before this one, the inside gets uncomfortably toasty in heavy traffic, and the center console can almost be used to store hot lunches.
1.4-liter four-cylinder, five-speed automatic
EPA rating (city/highway/combined): 24/36/28 mpg
Trip mpg: 28.0
Time: 1 hour, 42 minutes
Trip miles: 38.3
Average speed: 22.7 mph
Outside temp: 62.1 F
1.8-liter four-cylinder, six-speed automatic
EPA rating (city/highway/combined): 29/40/33
Trip mpg: 28.8
Time: 1 hour, 25 minutes
Trip miles: 31.9
Average speed: 22.0 mph
Outside temp: 64.9 F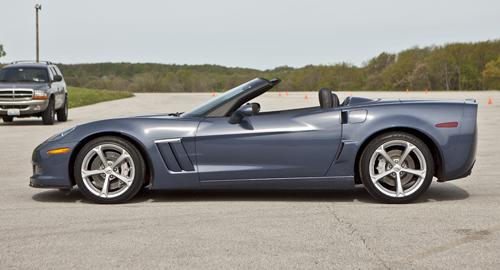 2011 Chevrolet Corvette Grand Sport
6.2-liter V-8, six-speed manual
EPA rating(city/highway/combined): 16/26/19
Trip mpg: 16.6
Time: 1 hour, 18 minutes
Trip miles: 34.7
Average speed: 25 mph
Outside temp: 73.9 F