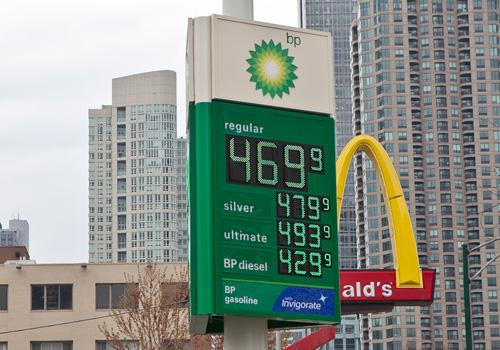 Memorial Day came and went, and with it went lower gas prices for many in the Midwest. Overnight, gas stations around Chicago and Indianapolis raised prices significantly. In Elgin, Ill., a Chicago suburb, prices rose 40 cents in 24 hours, reported WGN radio (720-AM).
According to AAA's FuelGaugeReport website, prices in Chicago were up an average of just six cents. In Champaign-Urbana, Ill., AAA reported an average price increase of 27 cents, while the national average moved up just a penny and states like California saw modest drops.
The price increase is being attributed to a nitrogen dioxide leak at an Exxon Mobil gasoline refinery in Joliet, Ill., that forced the plant to restart last Saturday. The incident's impact is isolated to the surrounding areas that require a special blend of gasoline for lower emissions like Chicago.
However, Indiana's average gas prices shot up an average of nine cents overnight. Bloomington, Ind., saw prices up 17 cents; Gary — near Chicago — had prices up 11 cents, and Indianapolis' gas prices increased 14 cents.
Ohio's average gas price jumped 10 cents, with Akron, Canton, Cincinnati, Cleveland, Columbus and Toledo seeing spikes of up to 14 cents.
We'd like to hear stories from our readers in the Midwest to see if they experienced gas-price sticker shock this morning on their way to work.