Reader Review of the Week: 2011 Honda Odyssey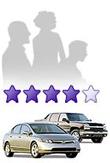 "Felix" from Allentown, Pa., swore he'd never purchase a soccer-mom mobile, aka a minivan, over an SUV or crossover. After carefully examining the field, Felix ended up with a well-optioned 2011 Honda Odyssey. To see what swayed him into the minivan camp, continue reading below. Once you're done, you can share your comments about your own car with us here.
"We bought the 2011 Odyssey EX-L because we wanted leather. The Odyssey is built like a tank, drives like a luxury car, and I love everything about it. I'm 6-foot-4 and rarely find vehicles that I can fit in. It's comfortable; the seats are wonderful for long trips. We just drove 300 miles each way to and from my parents over the holiday weekend and averaged 24.5 mpg at 80 mph on the Pennsylvania Turnpike. The third row flips into the floor with one pull of the strap. Great for hauling. I eat my words. I swore I'd never buy a loser-cruiser (aka minivan).
"I tried everything to find a crossover with enough room behind the third row; they don't exist. I tried to find a Chevy Suburban that seats seven, because my wife needs to be able to get through the second row to administer "justice" on the road. I'd have to spend $50K for an LTZ. So that left us looking at minivans. I don't trust the Chrysler Town & Country — just doesn't feel "solid" and reviews were questionable. The Toyota Sienna — I don't care what anyone says, Toyotas are cheap, with cheap materials throughout the interior. It didn't feel as sturdy as the Honda. I highly recommend this vehicle."