Reader Review of the Week: 2011 Kia Sportage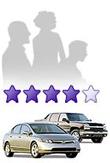 "Carman" from Oregon recently traded his Audi A4 for a brand-new 2011 Kia Sportage. You couldn't find a pair of vehicles that are more different, but Carman is still enamored with his Sportage. The car is stylish, fuel efficient and has room for Carman's kids. Read the full review below for more details. Once you're done, you can share your comments about your own car with us here.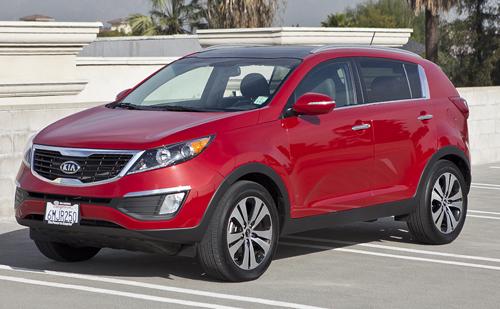 "LX model with convenience package (adds 17-inch wheels, cargo cover, backup alarm, telescopic steering wheel, heated mirrors, carpets and a few other things) and remote start.
"Exterior: Wonderful appearance, aggressive styling. Very modern but not too "look at me" such as with the Nissan Juke for instance. I am coming from an 2007 Audi A4 so styling is important to me. I love the AWD feature and especially the the tires that come with my LX model are mud and snow rated. My opinion is that this vehicle is the perfect combination of interior roominess, AWD, fuel economy and styling. Yes, the ride is stiff. I guess that depends on what you are coming from, though, as my A4 had a punishing suspension geared for slamming the winding roads. So this vehicle is definitely softer than that.
"Interior: The roominess far exceeds my old car, but I have also compared it to many other similar vehicles and even larger SUVs, and it certainly adds up. I have two kids in car seats and they both fit easily. I am 6-foot-1 and I have plenty of headroom. I have read poor reviews about the seats, but I havent found them bad at all. I really like the cargo/mesh material rather than regular cloth or leather. The controls on the steering wheel are perfect, and Bluetooth is a great feature. the only thing I really dont like is that there seems to be a shortage of drawers or trays for storage. Small defect, but I have always stored change in a drawer, and this has only a tray in front of the iPod integration and the main center console for storage. I find the steering is fine, I like the thick steering wheel also. The cargo area is big enough; the area where you lose out is if you need to transport something tall. The rear roof slopes down so you lose height. I personally could care less, but some people want the room of a full-size with the size of small sport utility. The engine is definitely not what I was used to in the Audi, but I didn't get the car for engine power at all, and I find that there is enough to use under normal situations and pass other cars when needed. The sport/manual shifting comes in very handy when you do need that extra boost for passing. Braking seems solid.
"Overall, everything in this car seems like it could be found on a much more expensive vehicle. The interior quality seems great, definitely not cheap-feeling. As for my star ratings, I gave three stars for comfort because it doesnt ride like a Lincoln, three for performance because it is right on par with my expectations of a small SUV and four for interior design because of a lack of and small storage trays.
"Overall I couldnt be much happier with a vehicle, especially one that didn't cost me $30k."