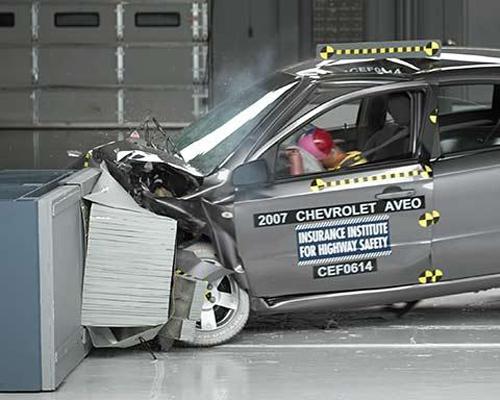 Small cars like the Chevrolet Aveo and sports cars such as the Nissan 350Z have the highest rates of death in accidents, according to a recent study by the Insurance Institute for Highway Safety of registered vehicles from the 2005-08 model years. On the other side of the spectrum, large SUVs are some of the least deadly vehicles on the road; the Nissan Armada and Ford Edge are two vehicles with the lowest death rates.That's mainly due to SUVs being early adopters of electronic stability control.
IIHS changed some criteria from its previous studies, but it found that the overall death rate per million vehicles was 48 deaths in the most recent study. The previous report's overall death rate was 79 for vehicles from the 2001-04 model years, and for 1999-2002 model-year vehicles, the death rate was 87.
What are the most and least deadly vehicles? Check out the lists below.
Least Deadly (Driver deaths per million vehicles)
Audi A6 four-door 4WD (0)
Mercedes E-Class four-door 4WD (0)
Toyota Sienna (0)
Ford Edge 4WD (0)
Nissan Armada 4WD (0)
Land Rover Range Rover Sport (0)
Land Rover LR3 (0)
Honda CR-V 4WD (7)
Jeep Grand Cherokee 4WD (11)
Acura MDX (11)
Mercedes E-Class four-door (12)
Lexus RX 400h (12)
Lexus GX 470 (13)
Mercedes M-Class (14)
Saab 9-3 four-door (16)
Kia Sedona (16)
Honda Odyssey (17)
Jeep Wrangler 4WD (17)
Honda Accord (19)
Jeep Wrangler two-door (20)
Honda Pilot 4WD (20)
Honda Pilot 2WD (20)
Dodge Dakota crew cab 4WD (20)
Acura 3.2 TL (21)
Acura RL (21)
Nissan Armada 2WD (21)

Most Deadly (Driver deaths per million vehicles)
Nissan 350Z (143)
Nissan Titan crew cab 2WD (126)
Chevrolet Aveo (119)
Chevrolet Cobalt (117)
Nissan Titan extended cab 2WD (111)
Kia Spectra5 (102)
Chevrolet Malibu Classic (99)
Hyundai Tiburon (96)
Nissan Versa (96)
Chevrolet Colorado extended cab 2WD (93)
Nissan Titan crew cab 4WD (92)
Kia Rio (89)
Kia Spectra (87)
Mazda Miata MX-5 (83)
Subaru Legacy (83)
Mitsubishi Eclipse (82)
Mitsubishi Galant (82)
Nissan Maxima (82)
Ford Ranger 2WD (81)
Hyundai Elantra (80)
Ford Ranger extended cab 2WD (79)
Toyota Yaris two-door (79)
Nissan Frontier crew cab 2WD (77)
Buick Lucerne (77)
Buick LaCrosse (76)
Chrysler Sebring (76)