2012 Nissan Leaf Gets Upgrades, Wider Availability, Higher Price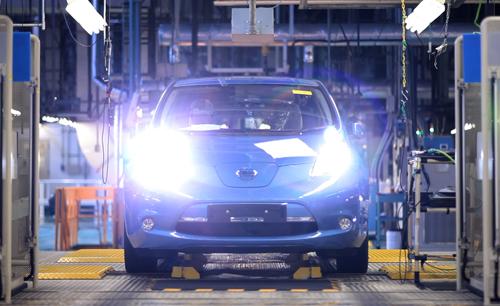 The 2012 Nissan Leaf will receive cold weather and quick charge features when it goes on sale this fall, but the bigger news is the electric hatchback will be on sale in more states.
Shoppers in Alabama, Florida, Georgia, Illinois, Maryland, Mississippi, North Carolina, South Carolina, Virginia and Washington, D.C., will be able to place orders for the 2012 model starting Aug. 4. That's also when buyers in existing markets can place orders for the 2012.
Read More About Our Long-Term Nissan Leaf and Chevy Volt
Starting Monday, consumers with existing reservations will finally get to order the cars they've been waiting on since the Leaf rolled out earlier this year in limited numbers.
Buyers of the 2012 model will get the DC Fast Charge option — we added it to our own long-term test Leaf for $700 — as standard equipment on the SL model.
Cold weather features such as a battery warmer, heated steering wheel and heated front and rear seats will be standard on both the SL and lower SV trim level.
Because of these new features, the starting price has risen significantly.
The SV will now start at $35,200, up from the 2011's $32,780 price tag.
The SL's price increased to $37,250 from the $33,720 for the 2011. Prices do not include a destination charge of $820.
Lease prices will start at $369 a month.