2012 Nissan Versa Sedan Lineup Priced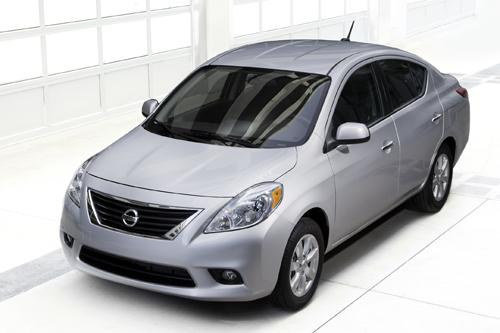 When Nissan unveiled the all-new 2012 Versa in April, it promised to keep the subcompact affordable, with a starting price of $10,990.
Today, we received full pricing details on the three trims: the 1.6 S ($10,990), 1.6 SV ($14,560) and 1.6 SL ($15,560). All prices exclude a $760 destination charge.
Nissan hasn't detailed what comes with each trim, though we know all models come with air conditioning, electronic stability control and a new 109-horsepower, 1.6-liter four-cylinder engine. The 1.6 S is the only trim with an available five-speed manual transmission; upgrading to a continuously variable automatic transmission puts the base trim at $12,760. Models with the CVT are rated at 30 mpg city and 38 mpg highway – that's 1 mpg better on the highway from Nissan's last reporting.
Cruise control will be a $350 option on the 1.6 S, while a Convenience Package will be available on the 1.6 SV for $350. A Tech Package is available only on the 1.6 SL for $700. Nissan hasn't revealed what features come with the packages.
The 2012 Versa is also available as a four-door hatchback, though that model is technically a carryover of the last generation. The 2012 Versa sedan goes on sale in early August.
Related
2012 Nissan Versa at 2011 New York Auto Show