Movers and Losers: June 2011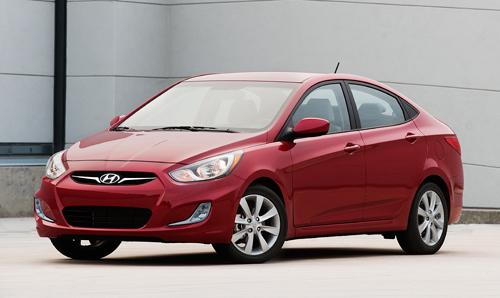 Hyundai is on a roll lately. The company has seen success with new products starting with the Sonata, then the Elantra and now the Accent. The company holds two of the top three spots on this month's Movers' list with 2012 versions of the Elantra and all-new Accent subcompact. Even the 2011 Elantra is one of the fastest-selling cars in the country.
Overall, fuel efficiency is pushing cars out the doors of dealerships as 11 of the top 20 movers are miserly at the pump … or electrical outlet.
The Losers' list looks awfully familiar with a few Jaguars and other luxury nameplates making the rounds.
Overall, the average time it took to sell a car ticked upward to 58 days from 54 in May, but it's only slightly higher than the 55 days it took in June 2010.
You can see our full lists below as well as our picks for slow sellers that don't deserve to sit on lots, but could have more negotiation room.
Movers
2012 Hyundai Elantra: 5 days
2011 Nissan Leaf: 5 days
2012 Hyundai Accent sedan: 6 days
2012 Mercedes-Benz CLS550: 6 days
2012 Nissan Altima: 9 days
2011 Hyundai Elantra: 9 days
2012 Honda Civic coupe: 10 days
2011 Audi Q5: 10 days
2012 BMW X5: 11 days
2012 Ford Focus hatchback: 11 days
2011 Audi Q7: 12 days
2011 BMW X3: 12 days
2011 Ford Explorer: 13 days
2012 Honda Civic sedan: 14 days
2012 Ford Focus sedan: 15 days
2012 Ford Mustang convertible: 15 days
2012 Ford Fiesta sedan: 15 days
2011 Hyundai Sonata Hybrid: 15 days
2011 Porsche Cayenne: 15 days
2011 Toyota Prius: 15 days
Losers
2011 Jaguar XFR: 255 days
2011 Mercedes-Benz SL63: 235 days
2011 Jaguar XKR convertible: 222 days
2011 Hyundai Azera: 216 days
2011 Mitsubishi Eclipse Spyder: 190 days
2011 Jaguar XK coupe: 167 days
2011 Cadillac STS: 143 days
2011 Lexus GS 450h: 138 days
2011 Volvo S80: 134 days
2011 Nissan Versa sedan: 133 days
Cars.com Picks
2011 Mazda2: 126 days
2011 Lexus IS F: 126 days
2011 Infiniti G25: 106 days
2011 Mazda6: 103 days
2011 Honda CR-Z: 98 days
About the Lists
The Movers and Losers list reports the average number of days it takes to sell models from the day they arrive on the lot until the final paperwork is signed by a buyer. This is not a days-of-inventory list like you may find on other websites. We're now focusing on only 2011 and 2012 model years.

For Movers, we only list vehicles that pass a certain threshold of sales in order to weed out limited editions, ultra-high-performance cars and others that might skew the numbers or otherwise inaccurately portray popularity. For Losers, we have removed any threshold of sales and exclude any models with a 2012 version on the market at the same time.