New Car Tracker: 7.15.2011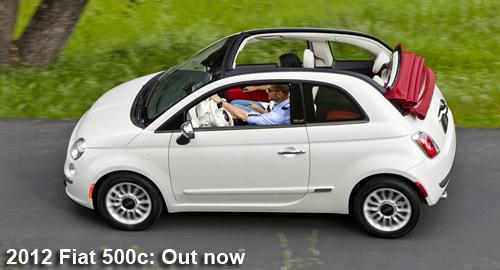 Summer has arrived, which means so have new droptops. The 2012 Fiat 500c with its large retractable cloth roof is now at dealerships, as is Nissan's convertible crossover SUV, the 2011 Murano CrossCabriolet. The battle of 40 mpg small cars continues with the 2012 Hyundai Accent, which is now available for sale.
As always, we remind our readers that we don't list rumored models, only confirmed vehicles and time frames.
Updated information in bold.
2012 Acura TL: Out now
2011 Acura TSX Sport Wagon: Out now
2012 Audi A6: Out now
2012 Audi A7 Sportback: Out now

2012 Buick Regal with eAssist: Summer 2011
2012 Buick Verano: Late 2011

2012 Buick Regal GS: Second half of 2011

2012 Buick LaCrosse with eAssist: Summer 2011
2012 BMW M5: Spring 2012

2012 BMW 528i: Fall 2011

2012 BMW Z4: Late 2011
2012 BMW 650i convertible: Out now
2012 BMW 650i coupe: Fall 2011
2012 BMW 1 Series: Out now

2011 BMW 1 Series M coupe: Out now
2011 BMW X3: Out now

BMW X1: 2011
2012 Cadillac SRX: Late summer 2011

2012 Cadillac CTS: Late summer 2011

2011 Cadillac CTS-V Sport Wagon: Out now

2011 Cadillac CTS-V coupe: Out now

2012 Chevrolet Cruze: Out now
2013 Chevrolet Malibu: January 2012
2012 Chevrolet Camaro ZL1: Early 2012
2011 Chevrolet Camaro convertible: Out now
2012 Chevrolet Camaro: Summer 2011
2012 Chevrolet Impala: Out now

2012 Chevrolet Sonic: Fall 2011
2012 Chevrolet Volt: Fall 2011

2011 Chevrolet Spark: Late 2011
2012 Chrysler 300 SRT8: Fall 2011
2011 Chrysler 300: Out now
2011 Chrysler 200 convertible: Out now

Dodge Viper: 2012
2012 Dodge Charger SRT8: Fall 2011
2011 Dodge Durango: Out now

2011 Dodge Charger: Out now

2012 Fiat 500: Out now

2012 Fiat 500c: Out now

2013 Ford Taurus: Early 2012
2011 Ford Explorer: Out now
2012 Ford Focus Electric: Late 2011
2012 Ford Mustang Boss 302: Out now

Ford Focus ST: 2012
2013 Ford C-Max Hybrid and plug-in hybrid: Fall 2012
2012 Honda Civic: Out now

2012 Hyundai Accent: Out now
2012 Hyundai Genesis: Out now
2012 Hyundai Equus: Out now

2011 Hyundai Elantra: Out now
2012 Hyundai Veloster: Summer 2011
2011 Hyundai Sonata Hybrid: Out now

2013 Infiniti JX crossover: Spring 2012
2012 Infiniti M35 Hybrid: Out now
2012 Jaguar XF, XFR: 2011
2012 Jeep Grand Cherokee SRT8: Third quarter 2011
Jeep Liberty: 2012
2011 Jeep Grand Cherokee: Out now
2012 Kia Soul: Fall 2011

2012 Kia Rio: Fall 2011
2011 Kia Optima: Out now
2011 Kia Forte five-door: Out now
2012 Land Rover Evoque: Fall 2011
2012 Lincoln MKT Ecoboost: Out now
2011 Lexus CT 200h: Out now
2012 Lexus LFA: 2011

Mazda CX-5: Early 2012
2012 Mazda3: Fall 2011
2012 Mazda5: Out now
2011 Mazda2: Out now
2012 Mercedes-Benz M-Class: September 2011
2012 Mercedes-Benz C-Class coupe: September 2011
2012 Mercedes-Benz C63 AMG coupe: September 2011
2012 Mercedes-Benz C-Class: Summer 2011
2012 Mercedes-Benz SLK-Class roadster: Out now
2012 Mercedes-Benz CLS-Class: Out now

2011 Mercedes-Benz E-Class Cabriolet: Out now

2011 Mercedes-Benz SLS AMG: Out now
2012 Mini Cooper coupe: Oct. 1, 2011
Mini Paceman: Late 2011
Mini Paceman roadster: Late 2012
2011 Mini Cooper Countryman: Out now
2012 Mitsubishi i EV: Early 2012
2012 Nissan Versa: Summer 2011
2011 Nissan Murano CrossCabriolet: Out now
2012 Nissan GT-R: Out now

2012 Nissan Leaf: Fall
Porsche 918 Spyder Plug-In Hybrid: September 2013
2012 Porsche Panamera Turbo S: Out now
2012 Porsche Panamera S Hybrid: Late 2011
2011 Porsche Cayenne, Cayenne Hybrid: Out now
Saab 9-5 SportCombi: Fall 2011
Saab 9-3: Fall 2012
2012 Saab 9-4X: July 2011

2011 Saab 9-5: Out now
2011 Scion tC: Out now
2011 Scion iQ: Fall 2011
2012 Subaru Impreza: November 2011
Suzuki Kizashi Hybrid: 2011
2012 Toyota Prius V: Fall 2011
Toyota Prius C: First half of 2012
Toyota Prius plug-in: First half of 2012
2012 Volkswagen Beetle: September/October 2011
2012 Volkswagen Tiguan: Fall 2011

2012 Volkswagen Jetta GLI: 2011
2012 Volkswagen Eos: Out now
2012 Volkswagen Golf R: 2012
2012 Volkswagen Passat: September 2011