Spotify in the Car: Review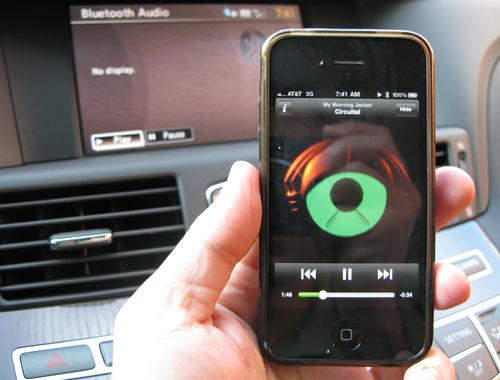 Online music junkies probably greeted the U.S. release of Spotify last week with glee. The online music service has been popular in Europe for years; it had to wrangle with U.S. music companies before launching here. It's similar to online radio services such as Pandora and Slacker, but Spotify allows for customized playlists, including full-length albums, for free.
To use Spotify in your car via a smartphone you have to jump through some hoops and pay up. How well does it work?
In terms of connecting to your car's stereo system via Bluetooth audio or an auxiliary input, Spotify works identically to Pandora. However, there aren't predefined stations or playlists that spit out songs you may like based on your tastes.
Instead you must build playlists on Spotify's player … on your computer.
The sync has to be conducted over a Wi-Fi connection that both the computer and iPhone are using, and it can take some time if you have a lot of songs in your playlists.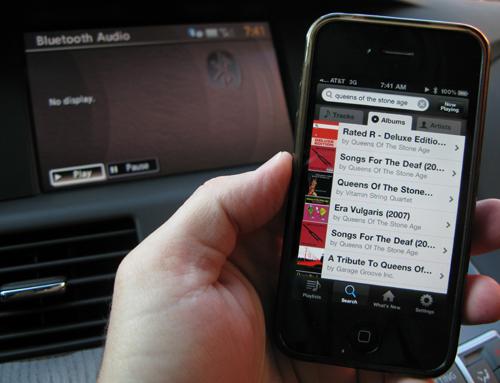 You can search for artists on the fly in the iPhone app that I tested (above). You can then select any of the tracks you've searched for, play them streaming from the service and star them or add them to existing playlists. The tracks can even be shared via social networks. However, these functions require precise finger pointing that isn't best suited for driving.
When skipping tracks downloaded to the app over Wi-Fi, it takes less than a second to go between tracks. If playing selections that are streaming from a new search, it takes about two seconds. A delay is noticeable. You can skip when the phone screen is still locked by pressing the home button twice, just like with the iPod and Pandora programs.
Where Spotify really shines is its full-length album compatibility for all of those music fans who remember listening to entire records in one sitting. For $9.99 a month, you can listen to as many albums as you want commercial-free. The monthly fee also allows for mobile app service and streaming at 320 Kbps. You can not use the Spotify app on mobile devices without paying the fee.
I found new albums I probably wouldn't buy but wanted to hear nonetheless and moved them into a playlist creatively titled, "New Albums."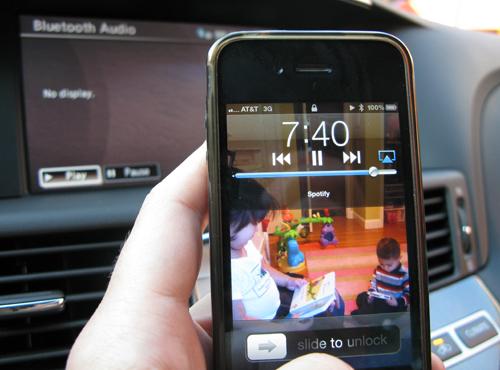 You can also import songs from your iTunes account; they play along Spotify tracks seamlessly. There is, of course, a shuffle function for any playlist.
I didn't like the Spotify app software on my MacBook air in terms of discovering music. Besides the most popular tracks and records, there are no categories such as Alternative or Rap to narrow down the offerings. A majority of the most popular songs are strictly pop and that's not really my style.
You can search for any artist. Using the fringe artists I tend to like as a barometer, the results are pretty comprehensive. You then can see related artists, which helps in terms of exploring more music. I won't lie. I quickly started saving albums to my playlist that I would never think of spending hard cash on. I picked 16 albums in about 2 minutes.
This would be a dream product for those who want a subscription music service from iTunes, but the amount of work it takes to get the songs you want where you want to hear them makes it an afterthought for me.
I will follow-up after the month of service I paid for runs out. If I'm addicted by then I'll gladly amend this post.