Teen Drivers Can Cause Insurance Premiums to Jump 200%
If the idea of your teenager driving the family car scares you, just wait until you see your auto insurance bill. Adding a teen driver to your car insurance can cause the six-month premiums to increase by more than 200 percent, according to CarInsurance.com. Takes your breath away, doesn't it?
To find out what adding a teen driver does to a family's insurance premiums, CarInsurance.com compiled insurance quotes in 25 states for families with a 49-year-old father and a 48-year-old mother who drive a financed 2009 Toyota Camry and a paid-off 2004 Ford Expedition. The quotes included full collision and comprehensive and liability coverage for both cars. The couple didn't have any violations or accidents on their record; they lived in middle-class suburbs and commuted to white-collar jobs. Then the folks at CarInsurance.com added a teen boy with a clean driving record to the policy. That's when rates went sky-high.
Because no two families are the same and a variety of factors determine auto insurance rates, there's a chance that your car insurance premiums won't go up 200 percent. For instance, if the faux family lived in Northville, Mich., their premiums only went up 94 percent. That's still tough to swallow. Even tougher to swallow is if the fictional family lived in Scottsdale, Ariz. Their premium would increase 243 percent, from $483 to $1,659.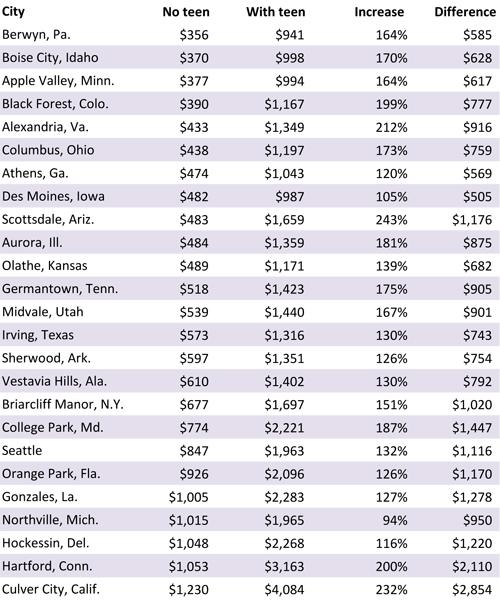 How can you lower your insurance premiums when adding a teen driver to your policy? Make sure to shop around for the best rate. It also helps if your teen is a good student. Many insurance companies give good-student discounts. CarInsurance.com also recommends buying the right car. Minivans are the cheapest to insure — much to any teen driver's chagrin.
What a Teen Driver Does to Your Car Insurance Rates (CarInsurance.com)