Wrecked Cars.com Chevy Volt Repaired: What Did It Cost?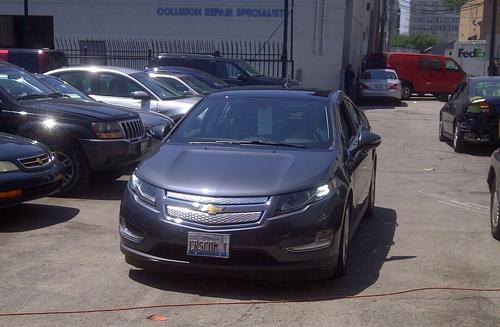 As we reported in May
, Cars.com's long-term Chevrolet Volt was involved in a collision that sent it to the body shop, and we just got it back. Though it cost more than the initial estimate, we were pleased to determine that the cost to repair a plug-in car wasn't as high as we had feared. In fact, it was only $2,181 more expensive than it would be to repair a 2011 Chevrolet Malibu subjected to a similar front-end "hit," according to West Loop Auto Body, which restored our Volt. It also took longer.
After the quick $10,500 eyeballed estimate reported in our original notice about the Volt, the written account was $11,588. The final total was $14,187. Why the discrepancy? Two things: First, an error in the ordering system suggested that a parts package incorporated a few items that actually were not included. These parts then had to be ordered at added cost. Ryan Tamblyn, who managed the repairs at West Loop, said it's not uncommon for such ordering quirks to emerge for new models — or even for cars that are a few years old. Overall, he said, "It seems like GM is on top of this car and trying to make everything work right."
The second added expense came once the Volt was reassembled and the various cooling systems re-pressurized. Coolant began to spray and an auxiliary cooling pump had to be replaced. This development was typical, Tamblyn said, because some damage can't be determined by eye until the car is reassembled. Likewise, we got a check-engine light after we took the Volt home a week ago, and it had to return to the shop for a couple of days of diagnosis and replacement of a pinched wiring harness.
What made up close to $2,200 in costs over a best-guess estimate for a 2011 Malibu?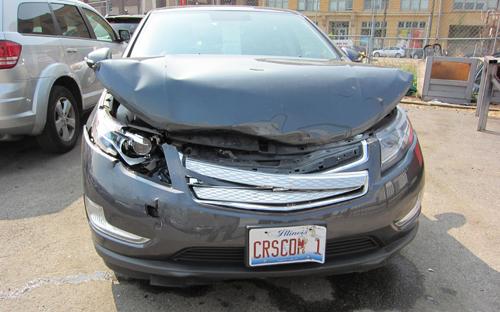 Tamblyn said it came down mainly to the additional cooling systems and reprogramming. A normal car with air conditioning can have as few as two or three such systems. The Volt uses additional ones to cool the battery and electronics, so no fewer than five heat exchangers, or radiators, and associated plumbing had to be replaced. The Volt is also highly computerized, and the car goes into a safe mode after a collision that requires the engine control module to be reprogrammed. "Other hybrids don't do that," Tamblyn said.
For what it's worth, a Malibu owner might not have gotten past the estimate phase. With a sticker price north of $40,000, our Volt was worth repairing. At a base price below $22,000, a modest Malibu might have been totaled by the insurer.
Had the theoretical Malibu been repaired, though, Tamblyn estimates it would have taken a week to a week and a half less time. From the day of the crash, almost nine weeks passed before the Volt was ready. It seemed like forever even though we had other cars to drive. The job itself took seven weeks from the time the insurance company gave the go-ahead, though we lost three additional business days after the check-engine light came on. The ordering snafu and a defective replacement cooling pump added extra days to the process, but neither of those things were attributable to the Volt being a plug-in. In the end, Tamblyn said, his first repair of a Volt went well and he probably won't change much in estimating another, should it arrive at his shop.
Tamblyn also said he'd never been contacted by GM about a car undergoing repairs before, though our dedicated Volt adviser, Brittany, checked in a couple of times a week. "I liked that they kept one person on it," he said. Both Brittany and our contacts at GM insist that this is the level of attention all Volt owners — not just Cars.com — should expect.
We look forward to resuming our coverage of the Volt in less … dramatic fashion.