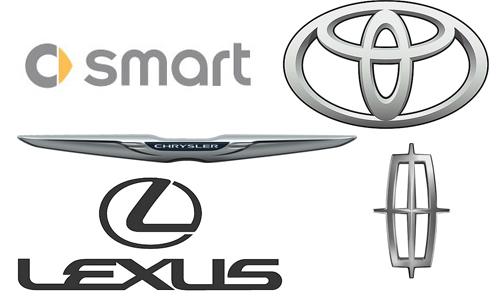 We're halfway through 2011 and a handful of automotive brands are standing out, but for all the wrong reasons. Because 2010 was such a poor year for car sales, sales growth in 2011 was supposed to be automatic. After six months, however, Acura, Infiniti, Toyota, Lincoln, Chrysler, Lexus and Smart are reporting falling sales compared with the first six months of last year.
Without the PT Cruiser and without any SUV, Chrysler's lineup features just three nameplates, the 200 and 300 sedans and the Town & Country minivan. Midsize sedan sales — that's the 200 and its predecessor, the Sebring — reached 34,851 through June, up from 21,365 last year. But sales of the 300 haven't taken off with the introduction of the 2011 redesigned model. Sales of the big sedan are down 34% so far this year. In contrast to the rising sales of its Dodge Grand Caravan twin, the Town & Country is off by 24% this year, a loss of nearly 15,000 sales for Chrysler. Also gone are 3,589 PT Cruiser sales; Chrysler pulled the plug on the offbeat car.
Overall, no mainstream brand has suffered greater losses than Chrysler in terms of percentage declines: It's down 11% in 2011. Remember, though, that that's not the Chrysler Group; When you include Dodge, Jeep and Fiat sales to Chrysler's, the Chrysler Group has posted gains of 21%.
At Lexus, Toyota's luxury division saw sales drop 18% year-to-date, which is a far more significant drop than anything you'll see from other premium brands. Lincoln is down 4% this year, and Infiniti and Acura are only slightly lower than last year's figures. Lexus certainly shares blame with its parent brand for the corporation's 4% drop this year. Toyota Motor Corp. was down 21% in June. Of course, a large part of the current sales decline can be tied directly to the earthquake and tsunami in Japan, though it's not the only force at work here.
You won't find a single auto manufacturer besides Toyota that's hasn't seen an increase in sales over last year's first six months of sales. No single Toyota Motor Corp. model is responsible for those lower numbers, either. Sales of the eight Lexus models are all down in 2011. Sales of 10 Toyota nameplates are lagging. In a market that's up by 718,561 units, Toyota Motor has 33,754 fewer U.S. sales than in 2010.
On the flip side of the coin, it's somewhat surprising to see the often overlooked Japanese automaker Mitsubishi posting greater gains this year than any other mainstream brand. Mitsubishi is up 67% this year: 7,843 extra sales from the new Outlander Sport and vastly improved results from the Eclipse (up 120%), Galant (up 90%) and Endeavor (up 185%). While those percentages are impressive, they translate into just 17,625 in additional sales, which is far less than Ford's 169,031 new sales.
On the luxury front, the biggest sales increase belongs to Saab, but considering the Swede's dead-to-the-world status last year, little credit is owed. Given its current troubles, its future outlook remains uncertain, at best. Porsche's results are more worthy of attention: Sales are up 42% this year (4,559 units) as the 911 and Panamera posted slight gains, and the Cayenne shot through the roof, more than tripling sales to 6,877 or 44% of all Porsche USA sales. Don't dismiss Volvo's 29% year-over-year jump or Cadillac's 18% jump. The luxury ledger displays plenty of positives.