2012 Honda Pilot: First Look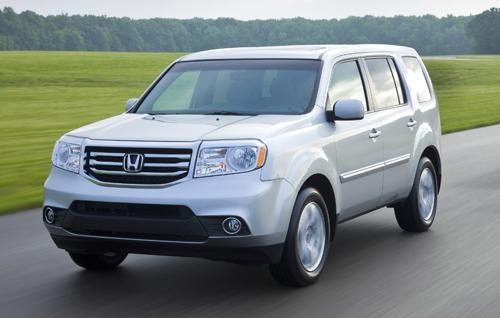 The Honda Pilot gets a mild refresh for 2012, including powertrain, interior and feature upgrades. The model is available at Honda dealerships starting today, and we detail what has changed below.
Although the exterior look hasn't changed much, there are important changes under the hood and cabin upgrades that make the Pilot more competitive compared with the 2011 model.
The 2012 Pilot is available in LX, EX, EX-L and Touring trims, with either front-wheel or all-wheel drive. The model starts at $28,470, $150 more than the 2011.
The Pilot's updated 250-horsepower V-6 – which includes new engine friction-reduction technology – now achieves an EPA-estimated 18/25 mpg city/highway and 21 mpg combined with front-wheel drive. The 2 mpg bump in the combined rating is enough to make the Pilot the most fuel-efficient eight-seat crossover. The 2012 Ford Explorer gets 20/28 mpg with a new four-cylinder, and the 2011 Toyota Highlander with a four-cylinder does better than the Pilot at 20/25 mpg, but both models seat only seven and are equipped with less powerful engines. The eight-passenger 2012 Chevrolet Traverse gets 17/24 mpg with more power.
Other improvements to fuel efficiency include the use of low-rolling-resistance tires, low-drag front and rear ventilated disc brakes and changes to the exterior design that help reduce wind resistance.
On the inside, the Pilot gets more sound-deadening material to help reduce road noise. Honda says the center stack of controls has been redesigned, but the changes are mainly relegated to a new, more streamlined-looking button layout.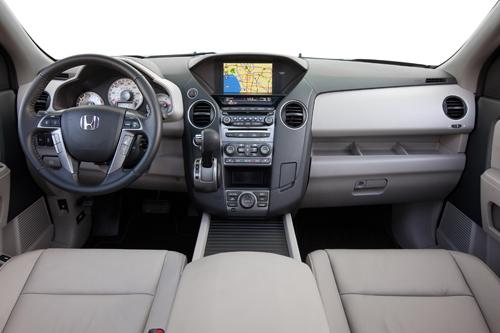 EX-L trims now get an 8-inch color display standard. Any model equipped with a navigation system will get a new one that comes with subscription-free FM traffic, 15-gigabyte hard drive for music storage and a higher-resolution monitor. Those navi upgrades sound similar to the new system we raved about in the 2011 Honda Odyssey. The navigation system also gets a new backup camera that can show wide view, normal view and top-down view.
The EX and EX-L Pilots now get a 2 GB CD library (also found on the 2011 Odyssey) that can copy music tracks from CDs, but not tracks from burned CDs or memory sticks. That feature replaces the six-CD changer option. Bluetooth connectivity with audio streaming is also standard on the above trims.
On the outside, the Pilot gets a revised three-bar grille, redesigned headlights and front bumper. EX trims and higher now have 18-inch alloy wheels (upgraded from 17-inch rims), while LX trims are equipped with 17-inch steel wheels.
Continue reading below for more trim changes and pricing.
---
2012 Honda Pilot Pricing (2011 Pricing)
LX (2WD): $28,470 ($28,320)
LX (4WD): $30,070 ($29,920)
EX (2WD): $31,320 ($31,170)
EX (4WD): $32,920 ($32,770)
EX-L (2WD): $34,570 ($34,270)
EX-L (4WD): $36,170 ($35,870)
EX-L with Rear Entertainment System (2WD): $36,170 ($35,870)
EX-L with Navi (2WD): $36,570 ($36,270)
EX-L with Rear Entertainment System (4WD): $37,770 ($37,470)
EX-L with Navi (4WD): $38,170 ($37,870)
Touring with Navi and Rear Entertainment System (2WD): $39,220 ($39,070)
Touring with Navi and Rear Entertainment System (4WD): $40,820 ($40,670)
Destination: $810 (same)
---
2012 Pilot Fuel Economy (2011 MPG)
2WD: 18/25/21 mpg city/highway/combined (17/23/19 mpg)
4WD: 17/24/20 mpg (16/22/18 mpg)
---
2012 Pilot Feature Change Summary
New grille, headlights and bumper
New 18-inch aluminum wheels (17-inch styled steel on LX)
Upgraded interior materials and revised instrument panel with new center stack layout
Acoustic windshield glass (previously exclusive to EX-L and Touring)
Upgraded audio and available navigation systems
Pilot LX adds:
AAC audio file playback from data discs to the CD player
Pilot EX adds or replaces:
18-inch aluminum wheels and P235/60R18 all-season tires
Bluetooth and Bluetooth audio streaming
2 GB CD Library (CD-L)
Pilot EX-L adds or replaces:
Power tailgate
Intelligent Multi-Information Display (i-MID) with QVGA resolution (includes backup camera, album artwork display and user-loadable wallpaper function)
USB audio interface
Pilot EX-L with navigation adds or replaces:
Upgraded navigation system with higher resolution and 60-GB hard drive (includes 15-GB audio hard-drive memory) and FM traffic
Song by Voice
Wide-view rearview camera with three-mode display